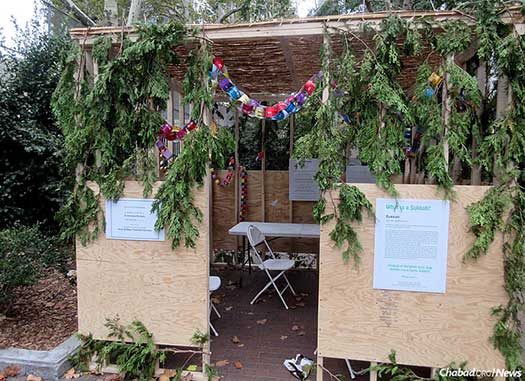 Chabad sukkahs in public spaces on Manhattan's Upper East Side, as well as five sukkahs at Chabad Lubavitch Upper East Side on East 77th Street, offer the chance for local residents and visitors to do mitzvahs during the holiday of Sukkot. (Photo: Howard Blas)
Two young Israeli boys were riding their bikes along Manhattan's East River Esplanade near Carl Schurz Park at 84th Street. They looked up, smiled, and called to their father in Hebrew: "Abba, look! A sukkah!"
Inside, a young couple with daughters 2 and 4 years old were enjoying a late-afternoon Yom Tov snack as runners, bikers, families pushing strollers and pedestrians walking dogs enjoyed the esplanade outside. The sukkah offers an amazing view of the Triborough Bridge and Roosevelt Island.
In a neighborhood where an apartment with a balcony or private rooftop large enough to host a family sukkah costs about $4 million, public sukkahs are a must for just about anyone who wants to spend time and eat in a sukkah.
About a 10-minute walk from the esplanade—at the sukkah just outside the John Jay Playground and tennis practice wall at East 77th Street and Cherokee Place (East of York Avenue)—a curious mother, father and two kids peeked in, asking "What shul put this up?" They admired the paper chains and art crafted by a group of schoolchildren, and the hanging evergreens of the sechach—the roof, made of materials grown from the ground—and read the sign saying that it was a Chabad sukkah. They also recited the "Leshev" and "Shehecheyanu" blessings as a family, noting that it was their first time observing the mitzvah of sukkah this holiday season.
Chabad sukkahs in public spaces on Manhattan's Upper East Side, including the ones along the Esplanade (East 84th Street), John Jay Playground (East 77th Street and Cherokee Place), Rupert Park Playground (91st Street and Second Avenue), Samuel Seabury Playground (96th Street and Lexington Avenue), as well as the five sukkahs on roofs and balconies at the Chabad House (419 East 77th St.), answer an issue all too familiar to Jewish urban-dwellers.
"We have a unique challenge here, where even the wealthiest can't easily put up a sukkah since they don't have spaces that look up to the sky," Rabbi Ben Tzion Krasnianski, director of Chabad Lubavitch Upper East Side in New York City, tells Chabad.org. And so, he says, "it is more critical than ever to build sukkahs in public spaces."
In Manhattan, few people live in homes with backyards, courtyards or porches with an unobstructed view of the sky. Residents wishing to fulfill the mitzvah of sitting and eating meals in a sukkah usually need to visit a local synagogue. While some shul sukkahs are open to the public, they are only accessible at certain hours.
The Chabad sukkahs and a special pedi-sukkah (attached to the back of a tricycle)—parked at 92nd Street and Lexington Avenue when not being used around the neighborhood—make it easier for Upper East Side residents to observe the mitzvah. Insists Krasnianski: "We need to make sure that no Jew is left behind!"
Chabad's public sukkahs are not limited to Manhattan's Upper East Side, of course. Dozens of public sukkahs dot New York City and thousands more are erected globally—in every city, town and country in the world with a Chabad center, as well as in small, remote Jewish communities where Chabad rabbinical students, known as "Roving Rabbis," travel for the holidays.
Shaking Lulav: 'A Positive Jolt'
Local rabbis say they appreciate Chabad's efforts to bring the holiday of Sukkot to residents and visitors in the city.
Rabbi Ben Skydell of Congregation Orach Chaim, at 1459 Lexington Ave., near two Chabad sukkahs in the parks, notes: "In a city where people often feel that they have no spiritual home, these sukkahs provide a place not only for the holiday's mitzvot, but also a place to call home."
Rabbi Elie Weinstock of Congregation Kehilath Jeshurun, at 125 E. 85th St., says "having sukkahs available is a nice, friendly touch in a busy and often anonymous city. The phrase, 'Let all who are hungry come and eat' isn't just for Pesach!"
Add to that 30 yeshivah students who walk the streets of the Upper East Side during Sukkot, giving people the opportunity to fulfill the mitzvah of lulav and etrog. Krasnianski says the Chabad sukkahs in the park are also staffed to help with the mitzvahs of Sukkot and to teach about the holiday.
"For some people, this is the first time in their life holding the lulav and etrog, and sitting in the sukkah," he says. "Waving the lulav gives a positive jolt—to stand tall and erect with Jewish pride."
While now in the midst of the intermediate days of Sukkot, Upper East Side rabbis are also looking forward to the annual Simchat Torah celebration on Oct. 12, held jointly with Kehillat Jeshurun.
"Thousands come to the fair, filling the streets," says Krasnianski. "We bring the joy of the holiday right out to the people!"
Chabad Public Sukkahs in Manhattan, 5779 (2018)
Here is a list of public Sukkahs in Manhattan sponsored by Chabad-Lubavitch during Sukkot 5779 (2018):
Chabad of Upper East Side
East River Esplanade (enter at E. 84th St.)
John Jay Park (E. 77th St. all the way east)
Chabad Israel Center of the Upper East Side
Ruppert Park (corner of E. 91st St. and 2nd Ave.)
Samuel Seabury Playground (corner of E. 96th St. and Lexington Ave.)
Chabad of Lower East Side:
104 Delancey St. (between Essex St. and Ludlow St.)
Chabad of Washington Heights:
Chabad of Washington Heights, 50 Overlook Terrace (side entrance)
Chabad of Harlem
JCC Harlem, 318 W. 118th St.
Chabad of Battery Park City
Museum of Jewish Heritage, 36 Battery Pl. (behind)
Chabad of Midtown Manhattan
New York Public Library Porch (corner of 5th Ave. and W. 42nd St.
Chabad of F.I.T.
340 8th Ave. (between W. 27th St. and W. 28th St.)
Chabad of Tribeca / SOHO
Chabad of Tribeca / SOHO, 54 Reade St. (between Church St. and Broadway)
Chabad of Beekman Sutton
Chabad of Beekman Sutton, 336 E. 53rd St. (between 1st Ave. and 2nd Ave.)
The Chabad Loft
Union Square Park (sukkah is located in SW area of Park, next to fountain – open daily from 10 a.m. to 6 p.m.)
Chabad at Columbia University
Chabad at Columbia University, 625 W. 113th St. (between Riverside Dr. and Broadway)
Chabad House Bowery (Serving NYU)
Chabad House Bowery, 353 Bowery (between E. 3rd St. and E. 4th St.)
Chabad of Hamilton Heights
Chabad of Hamilton Heights, 635 Riverside Dr. (corner of Riverside Dr. and W. 141st St.)
City College Quad (corner of W. 139th St. and Amsterdam Ave.)
3647 Broadway (between W. 150th St. and W. 151st St.)
The Chelsea Shul & Rohr Center for Jgrads
The Chelsea Shul & Rohr Center for Jgrads, 236 West 23rd Street (between 7th Ave. and 8th Ave.)
Chabad of Roosevelt Island
North of Firefighters Field, 405-425 Main St.
Chabad of the West Sixties
Chabad of the West Sixties, 310 West 75th Street (between Riverside Dr. and West End Ave.)
Chabad Center For Jewish Discovery
E. 20th St. between 1st. Ave. and 2nd. Ave.
Jewish Latin Center
South of E. 20th St. along East River
Chabad Young Professionals
Madison Square Park (at corner of E. 26th St. and 5th Ave.)