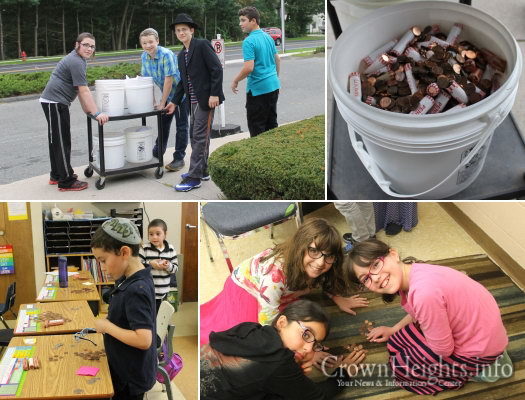 Have you ever heard of a war where everyone wins?  Well, one such war happened at Lubavitcher Yeshiva Academy (LYA) in Longmeadow, Massachusetts, and it's called Penny Wars. LYA students, toddlers through eighth grade, raised $1,217.14 in pennies, nickels, dimes and quarters in five days.  Proceeds were donated to Chabad hurricane relief for Harvey and Irma.
On Monday, September 11th, the fourth grade students came to school very concerned about the people who were affected by the devastation left by Hurricanes Harvey and Irma.  They wanted to do something positive. With the help of their teacher, Ms. Snow, the students wrote a proposal to the administration requesting to conduct Penny Wars at LYA.
"I'm so proud of my fourth graders for putting the needs of others first", remarked Ms. Snow.  "From start to finish this was their idea."
Penny Wars was very meaningful for fourth grader Mendel Buckberg whose father has a friend who lives in Florida.  "This money will help my father's friend, who was a hurricane victim", commented Mendel after Penny Wars was over.
Penny Wars is a fun competition, which also raises money. Each class competes to collect the most penny points.  It sounds pretty simple, but there is a catch.  While each penny earns one point, 5 points are deducted for each nickel, and 10 points for every dime, and so on.  The winner is the class with the most points.  A class can have many quarters and dollar bills, raise lots of money, and lose Penny Wars because they lose points for anything besides pennies.
Each day enthusiastic students came into LYA with bags, wallets and knapsacks filled with coins.  Students planned and strategized about the best containers in which to place their coins to try to keep their class in the lead.  Classes earned points by putting pennies in their own jars, but they put quarters and dollars in jars of other classes to make them lose points!
"My fourth grade students were so excited to not only bring in money to "sabotage" other grades, but they knew it was all for a good cause", commented Snow.
"The best part of the day was when we had a chance to "bomb" other classes with large amounts of coins", commented fourth grader Sara Stein.
Penny Wars was more than just a competition.  Students spent much time strategizing and problem solving.  In addition, Penny Wars strengthened math skills and estimation skills.
"Counting up all the pennies and coins at the end of each day was what I enjoyed most", remarked fourth grader Risha Lemkin.
Each afternoon the money was counted and delivered to Chany Baron, a parent volunteer who kept the score and tallied all the classes' numbers.  Each night points were posted on www.facebook.com/LubavitcherYeshivaAcademy.  Every morning students would gather around the bulletin board to strategize on which class to hit with bigger bills.
"Penny Wars was a huge success at LYA", remarked Mrs. Stephanie Zolotor, LYA Educational Director.  "It was a friendly competition between classes and was a true win-win for everyone. It was amazing watching the students work together and strategize within their individual classes. I was so proud of all of our students!"
The excitement of Penny Wars grew each day until the final day.  It was amazing to see how many penny rolls came out of hiding.  Classes had been stockpiling over $700 worth of pennies and change that were brought out in the final hours.
The winning class ended up being the fifth grade, which ended Penny Wars with 7, 080 positive penny points, and will celebrate their accomplishments during a pizza party.
"While they may not have "won" the penny wars, the fourth grade knows that they were involved in something bigger than themselves and they were happy about that", remarked Ms. Snow.
After Penny Wars was over, Hurricane Maria hit Puerto Rico.  The fourth grade decided to split the proceeds of Penny Wars into three in order to help as many people as possible.  With the help of LYA PTO they were able to send $1,400 in total to Chabad relief for hurricane victims.