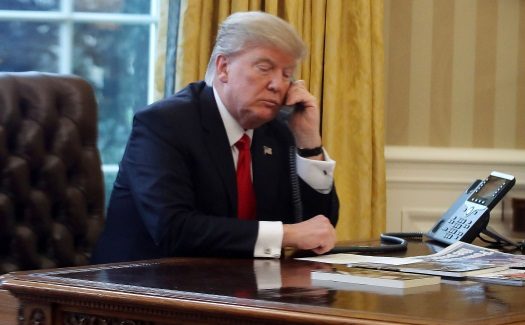 President Donald Trump has invited representatives from three major Orthodox umbrella groups — one of which is Chabad-Lubavitch — to join a pre-Rosh Hashanah conference call, but pointedly left off the invitation list the Reform and Reconstructionist representatives favored by Barrack Obama.
From the JTA:
The call to take place Friday morning comes three weeks after three non-Orthodox movements — Reform, Conservative and Reconstructionist —  declined to help organize an annual rabbis call that Trump's predecessor, Barack Obama, had instituted.
The Reform and Reconstructionists were not on the invitation list, spokespeople from both movements said. While representatives of the Conservative movement were invited to take part in Friday's call, they declined, according to the Rabbinical Assembly CEO, Rabbi Julie Schonfeld.
In addition to the Orthodox Union, Agudath Israel of America and the Chabad-Lubavitch movement, participants who confirmed to JTA that they would be joining the call include four general organizations: the American Israel Public Affairs Committee, the Conference of Presidents of Major American Jewish Organizations, the Simon Wiesenthal Center and the Zionist Organization of America.