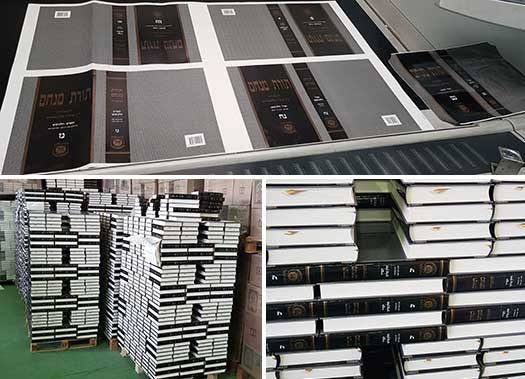 Individual Volumes of Torahs Menachem now on Sale
Chai Elul marked the conclusion of Lahak's historic sale on the first sixty volumes of Toras Menachem. Now, for a few limited weeks, another sale will take its place: Those who wish to complete their partially-bought sets can purchase individual volumes for the low price of $11 each.
This past Erev Shabbos marked the end of a grand Toras Menachem sale, participated by thousands of Anash and temimim the world over. Lahak offered the opportunity to purchase the first sixty volumes of Toras Menachem, including all the Rebbe's farbrengens during the years 5710–5730, for the low price of $440.
During both phases of the sale, the first phase this past Sivan, and the second phase this month, Lahak received numerous requests from individuals who purchased most of these sefarim as they were published. They explained that they are short a few volumes from the complete set, and they wanted to know if they, too, can be given the opportunity to upgrade their sets at a discounted price.
Rabbi Chaim Shaul Brook, director of Vaad Hanochos Belahak, has just announced that he has agreed to this request. In addition to the 5000 sets printed for the above sale, individual volumes out of print in recent years will be published separately, allowing those missing them to complete their sets. From 18 Elul 5777 until 6 Tishrei 5778, these volumes will be available for the discounted price of $11 each (50% off the regular price of $22).
To take advantage of this opportunity, please visit www.lahak.org/single, or contact Kehos in Kfar Chabad at 03-9606-018.
* * *
Lahak has notified those who participated in the first phase of the sixty-volume sale that the purchased sets will be available for pickup this coming week. Additionally, shipments will be sent out in the near future to Australia, England, Russia, the Ukraine, Illinois, Texas, and California.
Guests arriving in Crown Heights for Tishrei will be able to pick up their sets on Monday, 5 Tishrei. Shluchim arriving in Crown Heights for the Kinnus will be able to pick up their sets on Monday, 2 Kislev.
Those who participated in the second phase of the sale will be notified regarding pickup times and locations around 15 Shevat, 5778.
For more information, please email 60@lahak.org