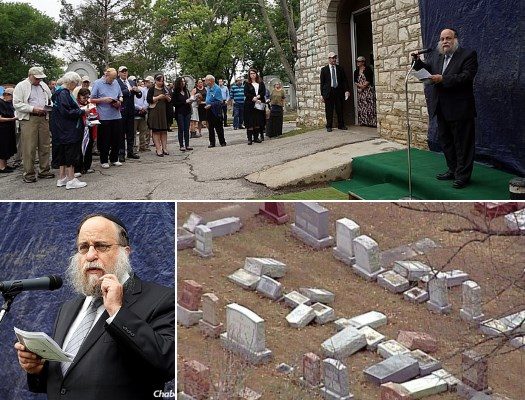 From Chabad.org by Faygie Levy Holt:
A Jewish cemetery in St. Louis vandalized back in February—an incident that captured attention around the world—was rededicated on Sunday after an extensive restoration effort.
More than 150 tombstones had been damaged at the Chesed Shel Emeth cemetery over President's Day weekend, some irreparably. Clean-up, refurbishment, and in some cases, complete replacement were in order. The cemetery was established in 1888 and continues to be used today.
"Jewish law, halachah, places a great deal of emphasis on the respect we should give to the deceased," says Rabbi Yosef Landa, regional director of Chabad of Greater St. Louis and a rabbinic adviser to the Chesed Shel Emeth Society. "As far as we are concerned, a cemetery is a baishachayim, a 'house of life,' because the neshamah [soul] continues to live. It is not the end of a person when he or she dies; it's a transition into a different form of life."
Continues the rabbi: "Our obligation is to treat them as people in the here and now. That is the essential difference of those of us who understand and have respect for the people buried there—people who might not be bodily with us, but are still with us nonetheless—as opposed to the depraved people who desecrate cemeteries and who have a complete disregard for the deceased."
Following the attack on the cemetery, thousands from across the country and beyond sent funds to help pay for repairs, while many others showed up in person to lend a hand and voice their concern, including Missouri Gov. Eric Greitens and even Vice President Mike Pence.
According to Anita Feigenbaum, executive director of the Chesed Shel Emeth Society, the significant public outpouring of support sent a "very strong message to those that did this act or those who contemplate doing this kind of act: We won't stand for it. Caring and goodness will succeed."
'Speaker's Words Heartfelt'
The vandalism came at a time of heightened awareness of anti-Semitic incidents and xenophobia. Now that the situation is calmer, organizers felt it was the right moment to express their appreciation to all who helped in the aftermath.
"There was a tremendous amount of work that was offered by people, including the monument company that donated their work, and we wanted to use this occasion to give thanks," says Landa.
In addition to the rabbi, who also recited several chapters of Psalms during the rededication, several other communal leaders spoke on Aug. 6, including Alan Simon, president of the Chesed Shel Emeth Society, and representatives from the local Jewish federation.
"It was a poignant program," says Feigenbaum, "and each speaker's words were very, very heartfelt."
Though the perpetrator has not been caught, the cemetery is back to regular business, and the investigation remains ongoing.
Says Feigenbaum: "We want to find out who did this. It helps with closure."