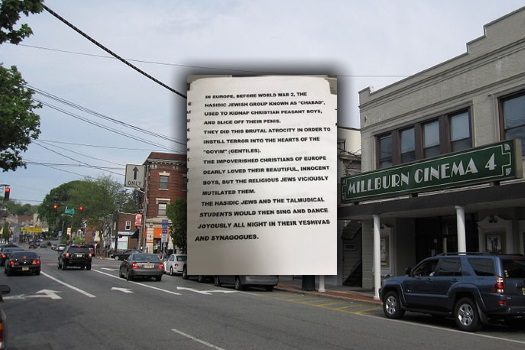 From NorthJersey.com:
Municipal officials in Millburn, NJ, are looking into an anti-Semitic diatribe that was faxed to Town Hall on Monday.
The one-page fax sent to the municipality multiple times says that in Europe before World War II, the Hasidic Jewish group, Chabad, would "kidnap Christian peasant boys and slice off their pen**"
The text reads as follows:
"The impoverished Christians of Europe dearly loved their beautiful, innocent boys, but the religious Jews viciously mutilated them. The Hasidic Jews would then sing and dance joyously all night in their Yeshivas and synagogues."
The 79-word text was written in all capital letters.
Assistant Township Business Administrator Jimmy Homsi said he kept one of the printouts, which were located on a fax machine on the second floor of Town Hall when he arrived Tuesday morning, and he shredded the remaining printouts.
"We're looking into it where it came from, when and all that stuff," Homsi said. He declined to say whether the Millburn Police Department had been notified.