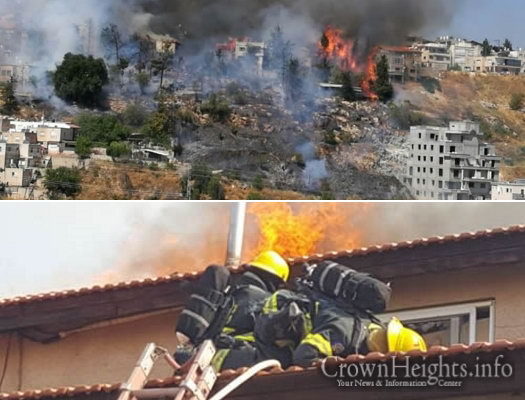 From Chabad.org:
Families were left homeless on Sunday in Safed, Israel, as raging brush fires fueled by sweltering midsummer temperatures and high winds swept through a neighborhood on the northern edge of the historic spiritual center in Israel's Galilee. Residents were also treated for smoke inhalation during the day.
Colel Chabad, the oldest continuous charity in Israel, established a telephone hotline and aid center even as firefighters continued throughout the day to battle the blaze on the ground and from the air. The fires were extinguished by evening, and a special fund and donation page was established to provide shelter, clothing and other needs for those who lost their homes and possessions in the blaze.
Government and aid officials are in the process of assessing the damage to the Mount Canaan neighborhood, home to Kiryat Chabad, which was established by Chabad emissaries to the city in 1978 and includes the main Chabad synagogue, an international seminary, and other communal institutions that serve the entire city.