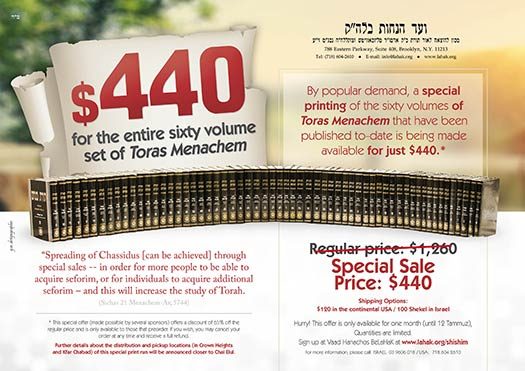 Donors Subsidize Purchase of Toras Menachem
Ahead of Gimmel Tammuz, Vaad Hanochos Blaha"k has come out with an unprecedented sale, sixty volumes of Torah's Menachem – the entire set printed to date, for just $440! This is possible thanks to a generous subsidy that is taking %65 off the price.
By popular demand, a special printing of all the sixty volumes of Torah's Menachem that have been published to-date is being made available for just $440.*
The regular price for the set is $1,260, and the sale price is just $440, with shipping options of $120 in the United States and 100 NIS in Israel.
Hurry! This offer is only available for one month (until 12 Tammuz), Quantities are limited.
This offer comes just a few months after Laha"k completed the sixtieth volume of Torahs Menachem on Yud Aleph Nissan.
Torah's Menachem is an ambitious project to bring to print all the Torah of the Lubavitcher Rebbe that he gave over during his Farbrengens. This undertaking received the Rebbes Brochos and Encouragement, and under the leadership of Rabbi Chaim Shaul Brook, they have managed to reach this auspicious point.
Sign up at Vaad Hanachos BeLaHaK at www.lahak.org/shishim
For more information, please call:
USA:  718.604.2610
ISRAEL: 03.9606.018
* This special offer (made possible by several sponsors) offers a discount of 65% off the regular price and is only available to those that pre-order. If you wish, you may cancel your order at any time and receive a full refund.
Further details about the distribution and pickup locations (in Crown Heights and Kfar Chabad) of this special print run will be announced closer to Chai Elul.
"Spreading of Chassidus [can be achieved] through special sales — in order for more people to be able to acquire seforim, or for individuals to acquire additional seforim – and this will increase the study of Torah.
(Sichas 21 Menachem-Av, 5744)