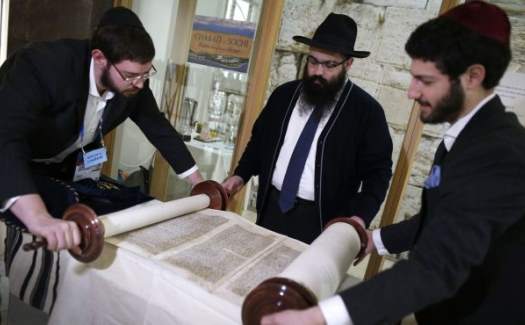 Rabbi Ari Edelkopf (center) unrolls a Torah scroll in one of several prayer centers set up to cater to Jewish visitors to the Sochi Olympic games in 2014.
from the JTA:
A Russian appeals court affirmed the expulsion order issued against an American Chabad rabbi working in Sochi, in what a local leader of the Chabad movement called a "dark day" for Jews.
In its ruling Tuesday against Ari Edelkopf, the Krasnodar Court of Appeals accepted the position of a Sochi tribunal that earlier this year determined that Edelkopf, who had been working as Chabad's emissary to the city, was a threat to national security. He has now no legal recourse and is legally obligated to leave the country in the near future, Interfax reported.
Boruch Gorin, a senior spokesperson for Russian Chief Rabbi Berel Lazar, condemned the ruling Tuesday as "hostile." For the first time "in the modern history of Russia, a rabbi is declared a 'threat to national security'," Gorin wrote on Facebook, adding that authorities have refused to divulge any details of the nature of alleged threat, citing laws on state secrets. He told Interfax the ruling was "Kafakesque" and "grounds for lawlessness."