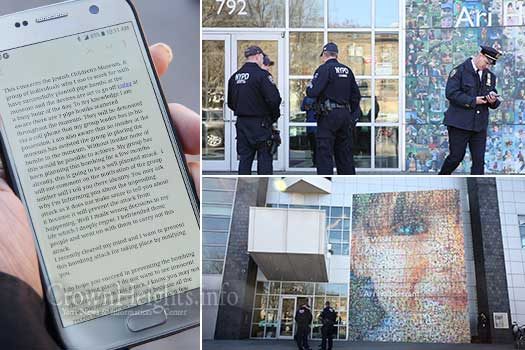 JCM Evacuated Due to Bomb Threat
A bomb threat, sent in by email, forced the evacuation of the Jewish Children Museum in Crown Heights. The threat stated that there were multiple bombs placed throughout the building and would be detonated remotely. The NYPD evacuated the building and an investigation is currently ongoing.
The threat was received by a Museum employee at around 10:00am and he immediately notified the police.
A "level 1 mobilization" was initiated, and the Bomb Squad along with the emergency service unit and canine unit are all currently at the scene. New York State Troopers have arrived at the scene as well.
Kingston Ave. and the southern service lane of Eastern Parkway in the vicinity of the museum have been shut down until the building is deemed safe to reenter by police.
CrownHeights.info obtained a copy of the emailed threat. The writer claims to be part of some unnamed group that has planted bombs in the museum with the aid of an insider. The writer then says that he is informing them of the bomb because he's had a change of heart and doesn't want anyone to get hurt.