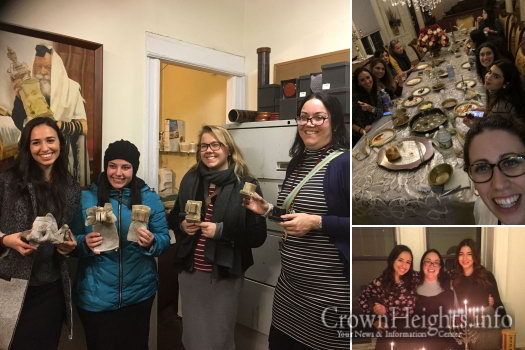 by Sarah Encaoua
It's been about a week since the end of the educational fun-filled program Yeshivacation. Students from colleges worldwide, as well as young professionals, devoted their winter-break to come to Crown Heights and learn more about their roots and heritage.
Students enjoyed daily Chassidus classes held at Machon Chana on Crown street, daily trips that included hands-on learning experiences, and nightly activities.
"My favorite part was visiting the scribes at Orayta, and learning how Tefilin are made" says Aurore Courtois, an MA student in HEC University in Paris, France. "I was amazed to see the process and how intricate one must be throughout" she adds.
Yeshivacation is a program ran by Machon Chana for over 30 years, and takes place twice a year. Students have the opportunity to study either in their winter-break or summer vacation. Students also have the option of attending the full time seminary or choose their learning time period they wish.
"Life at Machon Chana was a great experience for me, I am in awe as to how much I have gained just within ten days," says Melissa Aflallo, student at Concordia University in Montreal, Canada. "I was a bit scared at first, not knowing what to expect, but I am so happy I made the jump- everything turned out amazing and I am looking forward to coming back soon!" concludes Afflalo.
"The Marriage classes and the Mikvah tour were my favorite parts of the program. I gained so much about marriage preparation and family purity laws," Says Chava Dashevsky of Vancouver, Canada. Throughout the program, many classes were designed to empower women which gave strength to the students. "This brand new beautiful Mikvah, Mei Chaya Mushka, made the approach of marriage to me more exiting, holy, and powerful" concludes Dashevsky.
"I've been practicing Judaism my whole life, but coming here was an eye-opener which gave me direction and clarity" says Shaindy Goldberg, Makeup Artist, Toronto Canada. "Chassidus filled my spirit and gave me the strength to stand up for my Jewish values in the public workplace and gave me the thirst to continue learning" concludes Goldberg.
New students are welcomed with open arms to join the Machon Chana family. The summer program scheduled for July 5th through August 16th is now open for registration.  For more information visit their website at www.machonchana.org or call 718-735-0030. Rebbetzin Labkowski will be more than happy to design a program that best fits your needs.