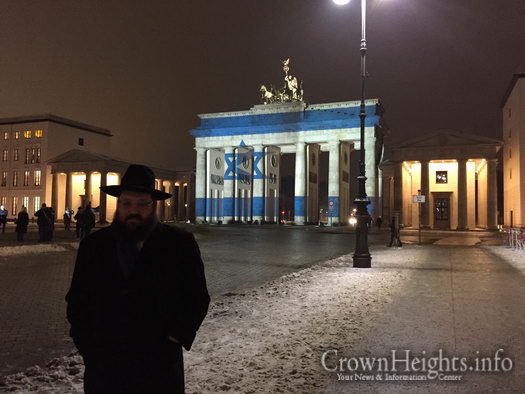 Rabbi Yehuda Teichtal, rabbi of the Jewish community in Berlin and the local Chabad Shliach, stands in front of the iconic Brandenburg Gate last night as the Israeli flag was projected onto it, expressing solidarity with the people of Israel after the terror attack they experienced yesterday in Jerusalem.
As he reached the site the Rabbi said: "Here, at a central and important place in Berlin, where just over two weeks ago we experienced a ramming attack as well, we stand and show the people of the Holy Land that we identify alongside with them. We seek to show our solidarity to the families of those killed and of those wounded. We ask in the name of our community to express our condolences to the Yekutiel, Hajaj, Tzur and Orbach families. As we stand together, our light glows stronger than the darkness." The rabbi also added "The intention of these terrorists is to spread fear within us, but they are due to fail, both in Jerusalem and in Berlin."
Rabbi Teichtal was one of the thousands of Jews and non Jews who signed the letter asking the Berlin Municipality to project the Israel flag on the walls of this historic Gate.