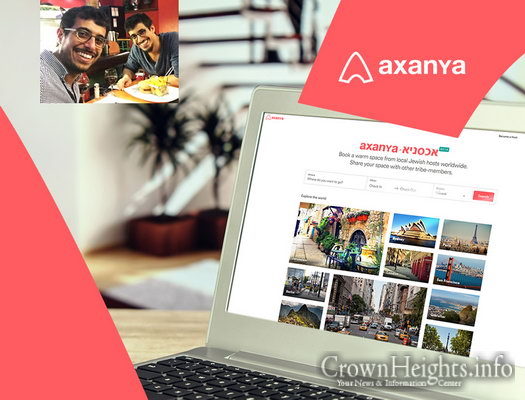 Axanya: The Jewish Answer to Airbnb
After months of planning and development, Crown Heights brothers Menachem and Sholomke Nagar are proud and excited to unveil Axanya, a service which enables Jewish travelers to focus on their experience instead of consuming precious time on finding ways to maintain a Jewish lifestyle while on the go.
"The ordinary person can avail themselves of numerous services to enhance their travel. However, accommodations that cater to the Jewish traveler remain largely unmet, making the Jewish travel experience far less than ideal," says Sholomke, co-founder of Axanya.
"What's more," says Menachem, co-founder of the project, "in recent years we've seen a rapid growth in the population of Jewish travelers around the world, making such a service an absolute necessity. A huge void was waiting to be filled."
Many great features greet the user on Axanya.com. For example, each listed apartment or space presents an array of religious accommodations suited for the observant traveler. One highlight is the dynamic map where travelers conveniently find information on a variety of services worldwide, like nearby kosher restaurants, kosher vendors, Jewish institutions, synagogues, mikvahs, and more. Travelers are also invited to provide feedback and rate each of these services as a courtesy to fellow travelers.
Additional features, such as the highly-anticipated home-swapping service will be rolling out in the upcoming weeks, just in time to make an extraordinary Passover getaway attainable for all observant families.
As a revolutionary force in the Jewish travel industry, Axanya accommodates Jews of all denominations and backgrounds, and can be used by students, families, and single travelers alike.
Axanya is embarking on a mission to build a caring and trustworthy network of Jewish people who share a common vision and interest of creating the kind of travel experience which many Jews have always wished for. A warm, welcoming, safe and reassuring environment for host and traveler alike, the perfect setting for making new connections with like-minded people and experiencing our wonderful world like never before.
If you are a traveler seeking an enjoyable experience, Axanya is for you.
If you have a space you are willing to share in return for making money or new friends, don't miss out on this unique opportunity; list your space today* while all fees are waived**.
Visit Axanya.com – List your space today!
* Short-term rental laws vary by state. Visit Axanya.com to learn about possible restrictions in your area.
** All service fees have been temporarily waived until 1/15/17.