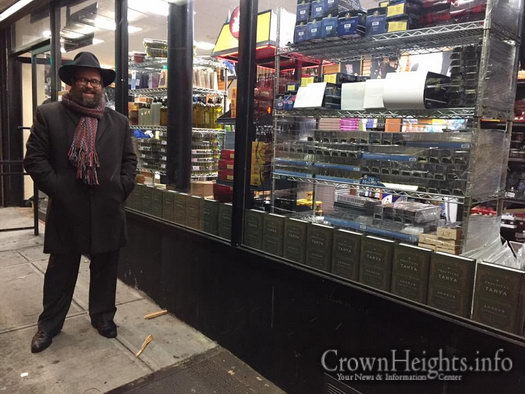 The shelves have now been refilled after the first shipment of Rabbi Chaim Miller's latest work, The Practical Tanya, sold out in less than 24 hours over the Kinnus Hashluchim weekend. The book has generated considerable excitement both in Chabad and beyond, being the first new English translation of the Tanya in decades.
In the new edition, the text is accompanied by an astoundingly clear commentary that eliminates archaic terms and incorporates insights from the Rebbe and leading mashpi'im—all skillfully adapted by the author into a language of contemporary self-help and personalized spirituality. Unlike most Tanya commentaries, which have appeared in multivolume sets, the Practical Tanya manages to pack all 53 chapters of Likutei Amarim into a single book. With cutting-edge design and typography, the book is desirable in every way.
The author of the new translation and commentary, Rabbi Chaim Miller, is one of most widely read Rabbinic authors today, writing in the English Language. His books have penetrated a broad spectrum of Jewish readership including Chabad, Modern Orthodox and Yeshivish and Academic communities. His"Gutnick Edition" of the Chumash, published in 2006, sold in excess of 150,000 copies, and sparked a renaissance in Chabad English publishing. In 2013, he was chosen by the Jewish Press as one of sixty "Movers and Shakers" in the Jewish world.
Rabbi Meyer Gutnick, who has published all of Rabbi Miller's major works in the last 15 years, was thrilled at the initial success of the new volume. "When the Tanya was first translated in the 1960s," he noted, "the Rebbe compared the event to the moon landing. I think the Practical Tanya is already taking us to another galaxy."
Rabbi Miller will be speaking about the new book and signing copies this Sunday Night (Yud Tes Kislev) at 8pm, 1406 Carroll Street.
The "Slager Edition" of the Practical Tanya is part of the Gutnick Library of Jewish Classics, published by Kol Menachem. For orders call 1.718.951.6328 or visit http://kolmenachem.com/itemdetail.asp?ItemID=35.