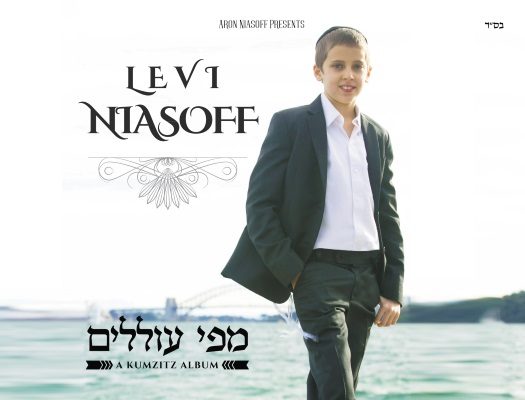 13-Year-Old Singer Releases Debut Album
Thirteen-year-old Australian singing sensation Levi Niasoff has just launched his debut Kumzitz album, "Mipi Olelim" – a collection of soulful, heartfelt melodies.
Mipi Olelim showcases a pure voice that is a true gift. It is the consensus of leading Jewish musicians around the globe that this album is exceptional. According to Avraham Fried, this, "Raises the roof both spiritually and musically!"  And Benny Friedman added, "This is G-d-given vocal talent that must be heard!"
Levi has grown up in a world immersed in music. Team Niasoff includes his father, Chazzan Yehoshua Niasoff, a talented, popular chazzan loyally serving one of the largest communities in Sydney, Australia; his mother, Nissa, who lives and breathes all-things-music and personally composed the title song and several others; and his older brother, Aron Niasoff, a gifted musician who arranged, recorded and produced this unique debut album.
Levi already has a worldwide YouTube following – one performance alone has received almost 20,000 hits and counting! He has chosen to incorporate many favorite ballads into his first album, each cleverly re-interpreted with his signature sensitive style.
"This one is special. He is Australian and I love him! His voice is from the heavens above and will lift each and every Neshama – Levi brings joy to all who hear him," said a smiling Yehuda Glantz.
Not to be outdone, Bentzi Marcus of 8th Day adds, "Get ready to be wowed and inspired by this incredible young singer!"
Mipi Olelim is currently available for download at iTunes, Google Play, Amazon and Mostly Music; and hard copies available at Judaica World and Mostly Music Brooklyn.