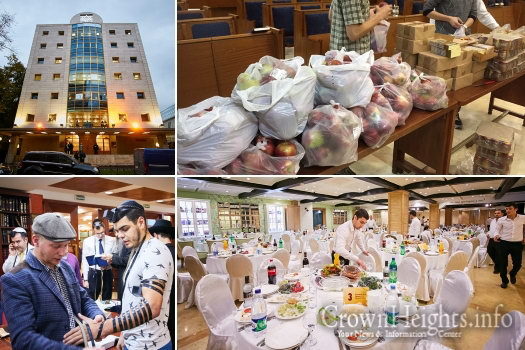 Hundreds of Jews filled the central Marina Roscha shul on both days of Yom Tov, with additional minyanim being held in the neighboring mosdos for the Bucharian community, the Kavkazi community, Israelis, youth, and more.
Just before Yom Tov, a letter with greetings from Russian Prime Minister Vladimir Putin was read out loud. The letter was sent to the Chief Rabbi of Russia, Berl Lazar with greetings for the new year for all Jews in Russia.
After the davening, many of the congregants went over to receive blessings from the Chief Rabbi for the new year. Along with his blessings, each of them received a Jewish calendar in Russian, along with an apple and honey.
Elegant Yom Tov meals were prepared for all who needed. Tashlich was done in a specially prepared pool in the yard of the central shul. Meanwhile preparations are underway in building the huge sukka for the shul, which will have close to 1000 places this year!
Being that there is a custom to visit the cemetery on Erev Rosh Hashana, the "Shaarey Tzedek Chesed Center" arranged free busses to the Jewish cemeteries of Moscow for all the elderly and needy who would not have been able to get there on their own. This enabled them to daven at the graves of their loved ones, asking Hashem for whatever they need.
Photos by Levi Nazarov