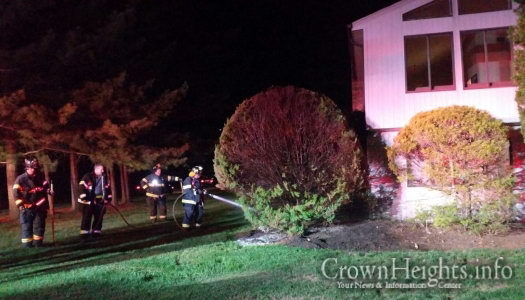 Police say they identified several young suspects who may have exploded powerful fireworks outside the homes of two Chabad rabbis in Monsey, but have not developed enough evidence for an arrest.
From LoHud.com:
The investigation remains open, with detectives hoping to develop additional information in a case that's been described as a hate crime by some and is being called a case of criminal mischief for now by police.
"The case is at a standstill," Capt. Robert Mahon said Friday. "Our detectives did a lot of work. Suspects were being developed."
But, "At this time, there is not sufficient evidence or probable cause to move forward with a charge."
He said the suspects had hired lawyers and declined to speak with police.
Clarkstown police have been investigating the three explosions around 10:30 p.m Aug. 9 near the Chabad Lubavitch of Rockland at 315 N. Main St. in New City. That night, about 15 people had gathered in the quarters of associate Rabbi Simcha Morgenstern in a two-family house at the Jewish religious center. Rabbi Avremel Kotlarsky of the Chabad and his family also lived in there.