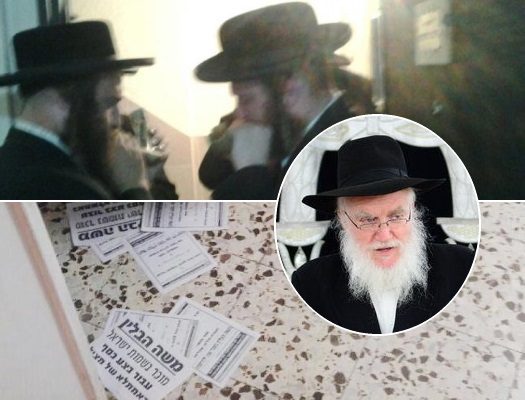 R' Moshe Havlin: Intruders Threatened to Kill Me, Cursed the Rebbe
Rabbi Moshe Havlin, whose home was attacked by extremists last week, stated in an interview with the Haredi news site Kikar Hashabbat that the attacks against him continued throughout the weekend. Three suspects were arrested in connection with the incident.
From Arutz Sheva:
The attack upon Rabbi Havlin, Chief Rabbi of Kiryat Gat and a prominent Chabad rabbi, was perpetrated by haredi extremists. The attack came after the recently negotiated agreement between Chabad yeshivas and the IDF.
"Yesterday wasn't calm either," he said, "they said they would chop me into pieces and cursed the Rebbe."
"Let them attack my name, "Havlin told Kikar Hashabbat, "but to attack the Rebbe? For me that is crossing the line."
"I have their numbers and I notified the police, who have started an investigation," Havlin added.
Rabbi Havlin refused to confirm suggestions by those close to him claiming that the leader of a rival Chabad yeshiva, which opposed the arrangement with the IDF, was behind the attack.
"I'm not saying anything," Havlin stated, "I don't want to spread rumors. The police have opened an investigation and I hope they find those responsible."
From Yeshiva World News:
Suspects Arrested For Assaulting Rav Havlin Tell The Court: We Don't Recognize Your Authority Or The Zionist State
The three suspects arrested for taking part in the illegal intrusion and destruction that followed in the home of Kiryat Gat Chief Rabbi Moshe Havlin Shlita were arraigned in an Ashkelon court. The three have refused to cooperate with police and have not identified themselves. They told the court they do not recognize its authority. The court extended their remand for four days.
The three were a part of a group of about 25 Sikrikim who broke into the rav and began trashing the home in protest of Rabbanei Chabad reaching agreement with the IDF by which Chabad talmidim will serve in the military. As a result of the incident the rebitzen was hospitalized, apparently the result of the psychological trauma of seeing the thugs in their home and the damage they caused.
One of the three actually turned around and showed the court his back to highlight his contempt for the secular court and to highlight his unwillingness to cooperate, telling the court he also does not recognize the state.
Due to their position, the court released the public defender from representing them. At present, they face charges of trespassing.
The court signaled it was contemplating their release with restrictions but in light of their adamant refusal to cooperate, the decision was made to comply with the police request to extend their remand. It is added that authorities have already learned one of the suspects allegedly took part in an assault against a chareidi IDF soldier in the past.