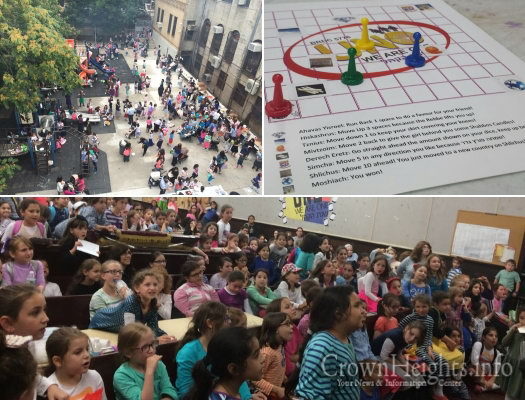 Bais Rivkah Day Camp ended off an incredible eight weeks of a "Hakhel summer" with a barbeque lunch for mothers and daughters.
Campers enjoyed a fun filled summer full of trips, activities, friendships, and most of all full of fun, positive, chassidishe energy to keep them going for the rest of the year.
"Bais Rivkah Day Camp is better than it has ever been," said one mother. "The staff is so dedicated and the camp is so smoothly run, I really feel like my kids are in good hands when I send them to camp." Even Shiur and Tzivos Hashem were exciting, as the girls filled out charts and played creative games to explore Derech Eretz, Hiskashrus, and Tznius.
The barbeque began with a delicious spread for campers and their mothers to enjoy. There was live music and the energy was tangible! It was followed by a Dr. Shnitzel mad science show which both parents and children enjoyed.
"I really love art" gushed one camper, "and I really love baking", said another. The camp offers a variety of activities, ranging from clubs to art, swimming, baking, and trips. Most of all they aim to ensure that every child has a happy, healthy, chassidishe summer!
Bais Rivkah Day Camp would like to thank Rabbi Benjy Stock for all his help throughout the summer. They would also like to thank the Director and assistant director Sarale Blau and Sara Kupfer, and the dedicated head counselors Tzivia Block, Chaya Deitch, Sheina Oster, and Devorah Leah Paltiel.  Of course, camp would not be what it was without all the counselors, Shiur teachers, and all other staff!
The girls finished camp with tremendous energy – ready to bring Moshiach Now!
A letter from a grateful parent:
Dear Bais Rivkah day camp staff,
I want to share what a super summer my kids are having in BR day-camp this year. They are enjoying the carefree, non-stressed, exciting and playful atmosphere we dream of for our kid's summers.
And I know my children are not the only ones, I hear it from mothers all over CH. The local kids are enjoying their summer in the city to a brand new level.
The people I have been dealing with in camp, starting with the camp office and the head staff, have been kind, polite and honestly wanting my kids to have the best summer possible. They don't mind considering little exceptions or requests. Everyone is treated with respect and a smile.
When I walk into the lunch room to drop off my girls, there is a bustling, happy energy. Counselors are attentive and smiling. Head staff is enthusiastic and interested in each child's little needs. The air says 'it's gonna be a great day!'
This is of course the ideal environment to infuse yiddishe, chassidishe attitudes and education into our little girls. They are receptive and your message is absorbed because of the joyful, sincere way it is delivered.
I overheard shiur being given to a group of girls in the younger division. The teacher was using different voices for the characters in her story. She was moving around the classroom as she put her whole self into it, clearly she felt she was teaching a room of very important people. It was beautiful to see.
 I hear my girls practicing their camp cheers. They also impersonate the counselors as they play and in their words I hear the message of moshiach, tznius and ahavas yisroel that you have woven into camp life.
Giving our children this kind of summer is a huge accomplishment. It can make a difference in a child's entire next year. They go back to the classroom more able to cope and they feel more relaxed and confident. They also gain valuable strength in their identity as a chossid. Forever that positive connection to yiddishkite and the Rebbe remains in their hearts. They will draw from it even as they make choices and decisions far into their futures.
Shlichus in crown heights is so important and YOU, the girls and woman of BR day camp, have done a great job at just that.
Sincerely,
A grateful Parent
P.S. I am thankful to the financial supporters of Bais Rivkah day camp. I know the cost is much more than the tuition paid. The scholarships are such an effective and concrete way to help our children thrive.