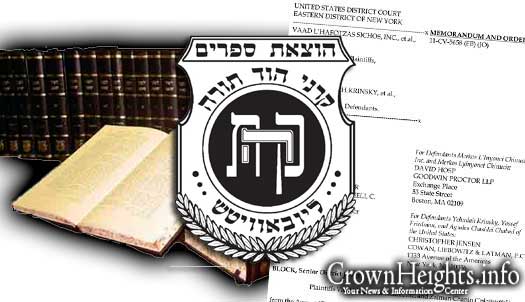 On Monday, a Federal Judge dismissed a lawsuit brought by Merkos L'Inyonei Chinuch, led by Rabbi Yehudah Krinsky, against Vaad L'Hafotzas Sichos, led by Rabbi Zalman Chanin, seeking injunctive relief for the Vaad's unauthorized use of the Kehot logo on volumes of Likutei Sichos and other publications.
In his ruling, issued on Monday, July 25, Senior Judge for the Eastern District of New York Frederic Block wrote that although Merkos does have the absolute trademark ownership of the Kehot logo, and that Vaad's use of the logo on its publications was improper, nevertheless the court is compelled to dismiss Merkos' lawsuit seeking injunctive relief due to the "doctrine of laches."
Laches is the legal doctrine that an injunctive claim will not be allowed if there was a long delay in asserting the right or claim by the plaintiff against the defendant.
This court ruling reaffirms a similar ruling by the same judge back in January of 2016, in which, following a four-day bench trial, the Court determined that "Merkos L'Inyonei Chinuch's trademark-infringement claim failed because Vaad L'Hafotzas Sichos's use of the Kehot logo did not result in a likelihood of consumer confusion, and even if it did, Merkos's claim was barred by the doctrine of laches."
Merkos then sought to amend that ruling through appeal, which was rejected by Judge Block in Monday's ruling.
Previously, in October of 2015, Judge Block dismissed claims of copyright infringement and unfair competition which were brought against Merkos by the Vaad, ruling that Merkos' trademark of the Kehot logo was valid.
Notable in that twenty-six page ruling were these words by Judge Block: "For the third time, the Court is called upon to adjudicate an aspect of the seemingly never-ending dispute precipitated by the passing of the Lubavitcher Rebbe, Menachem Mendel Schneerson," and "Even a matter as final as death is a subject of debate in the Lubavitcher community, with some holding the "heartfelt belief that, notwithstanding his physical passing in 1994, the Rebbe still lives.""
See the full text of the ruling below:
27-07-2016-00-02-49-131