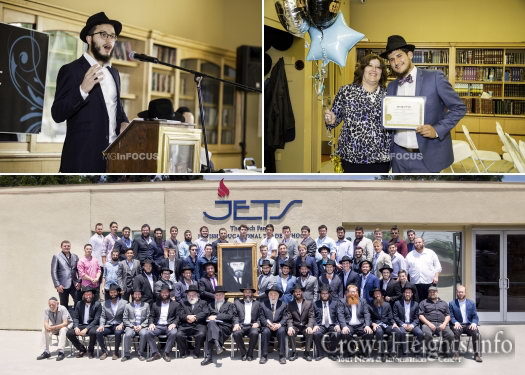 JETS (The Jewish Educational Trade School) in Granada Hills, California, has completed its 11th successful school year and the JETS staff, students, and families are left with good memories, life lessons,  and Chassidishe values  learned and lived together.
JETS offers its student body a complete Jewish education based on Chassidishe values in addition to trade education and college academics. The boys are supported by a dedicated staff completely invested in their spiritual, physical, and educational well-being. Rabbi Mayer Schmukler, founder and director of JETS, created this program with the goal of enabling young boys to establish a career while being immersed in an environment conducive to growth B'ruchnius and B'gashmius.
Rabbi Mendy Seewald, Judaic Principal at JETS, says it is truly special to see all the growth of the students and the changes that take place in a year's time. Rabbi Naftali Smith, Principal at JETS, says that the combined programs of Judaic studies, academics, extracurricular activities, and trades give a bochur the opportunity to further his  career path in an environment conducive to living life as a true Chossid, who is able to support a family.
Rabbi Elchanan Tauber, Av Beis Din and Rov of the Los Angeles community, as well as Rabbi Yitzchok Kornwasser run the JETS Smicha program. The Smicha program is unique and very hands on, with additional focus on learning practical everyday material, including intensive study on laws of Shabbos, Ishus, Amira Linochre, Bishul Akum, Cholov Akum, Haagolas Keilim, Tevielas Keilim, Yayin Nesech, business ethics, Basar Vicholov, Taaruvos, and Melicha. Mazel Tov to all of the Smicha graduates, ordained rabbis: Yaakov  Deitsch, Shaya Greene, Yehoshua Goranson, Sholom Grosh, Menachem Grosbaum, Eli Kapeluschnik, Daniel Meir Lewkowicz, Mendy Raskin, Mendel Rubashkin, Eliezer Schabes and Nati Zigelbom
In addition to classroom studies, JETS provided its students and future rabbis with the opportunity to apply learning in practical skills such as a kosher supervision class, taught by Rabbi Boruch Krinsky, enabling students to receive a certificate in the field of Mashgiach; a class on the proper slaughter of kosher animals, taught by Rabbi Mordechai Seewald, enabling the students to receive a certificate in the field of Shchita; and a class on the proper observance of laws of Shabbos, taught by Rabbi Yitzchok Kornwasser, enabling the students to receive a certificate in the field of Shabbos. The JETS teachers Rabbi Levi Blizinsky, Rabbi Zalmy Raksin, Rabbi Tzvi Schwartz, Rabbi Aizik Chanin, and Rabbi Mordechai Seewald each bring a unique learning opportunity to JETS students.
In the secular department there were many awards given out including the culinary class, taught by Chef Henderson. Six students  graduated the introductory course and  are very proud of all the effort they put into the course.JETS is also proud to announce that this year produced the most graduates ever in high school equivalency, with 20 graduating students. Additionally, eight students completed coursework at the college level at Touro College towards academic careers.
In the Trades Department, students completed work and received awards or certificates in the following courses: Emergency Medical Response (EMR) & Emergency Medical Technician (EMT), Residential Construction & Repair, Electrical Fundamentals, Accounting, Culinary of Arts, Computer Operations, Computer Programming, iPhone repair specialist, Auto-CAD, and HVAC Repair and Maintenance.
This year, JETS launched a finance banking program in conjunction with Mortgage Bank of California. The class had 12 students, with 6 of them receiving an internship opportunity.  The course was developed and taught by Managing Director Mayer Dallal and Director of Operations Tabitha Mazzara. JETS is exceedingly grateful to the whole team at MBANC, especially Steve Afra who was instrumental in the creation of this program and Shmuel Chanin for coordinating the proposition.
Over 150 people attended the banquet, including families, friends,and alumni. The banquet was organized and officiated by the JETS students, emceed by Shliach Yaakov  Deitsch,  and began with a welcome by Director Rabbi Mayer Schmukler.
JETS Creative Wing gave students the opportunity to pursue creative passions such as photography, videography, audio and sound mixing. The videography class was taught by Mendel Katz of Los Angeles.
Avi Gordon the grandson of the late Head Shliach of Chabad of the Valley, Rabbi Yehoshua Gordon OBM, read the Rebbe's letter and thanked Rabbi Schmukler and the JETS staff for the amazing year. Current student,Mendel Rubashkin, spoke about his personal growth at JETS. A video presentation was created by Mendel Grossbaum of the Jets creative wing, recapping the year's highlights. Shloime Fuchs,  a JETS alumni, flew in from New York to be at the banquet. Rabbi Fuchs shared his accomplishments as former JETS student and explained that he wants to give back and so will be returning as a shliach. Shliach Mendy Sasoon, students Mendy Rapoport, Ariel Fikh, and Yisrael Sputz and parent Mr. Meir Zigelbom spoke as well, each  thanking the staff, shluchim, and expressing their gratitude to JETS for its unique and effective program .
The students worked tirelessly organizing and raising funds for the grand trip. The boys headed out to Pismo Beach for a three day/two night camping trip and enjoyed ATVing , motor boating, water tubing,  and  jet skiing. The feeling of achdus around the fire was palpable with songs and music all through the night. To quote the students: "We did not sleep for two nights, but they were the best two nights of our lives!" Rabbis Levi Blizinsky, Tzvi Schwartz, and M.Seewald chaperoned and farbrenged with the students throughout the trip, which was a memorable end to a fabulous year at JETS.