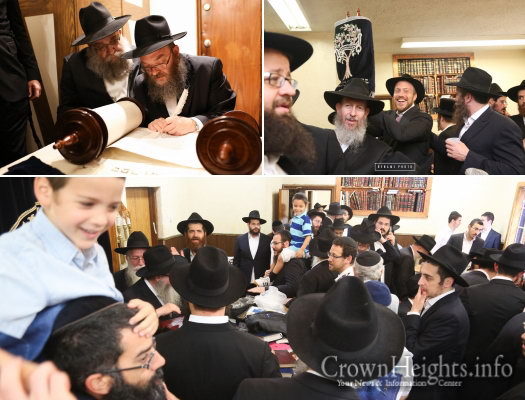 A Hachnosas Sefer Torah was held in 770 yesterday, Sunday, after Mincha, dedicated by the Beis Yisroel Torah Gemach in conjunction with Rabbi Yossi Schildkraut of San Paulo, Brazil, and all the Shluchim who came for Gimmel Tammuz.
The new Torah was donated by Mr. David Rubinsohn, who attended the joyous event accompanied by family and friends.
The Torah will be placed at Chabad of Monroeville in Pennsylvania, which is led by Shliach Rabbi Mendy Shapiro.
The Beis Yisroel Torah Gemach works in conjunction with Merkos Suite 302 to place primary and secondary Torahs for start-up Chabad Houses that have a Minyan but cannot secure their own Torah yet.
Photos by Benams: facebook.com/BenamsPhoto