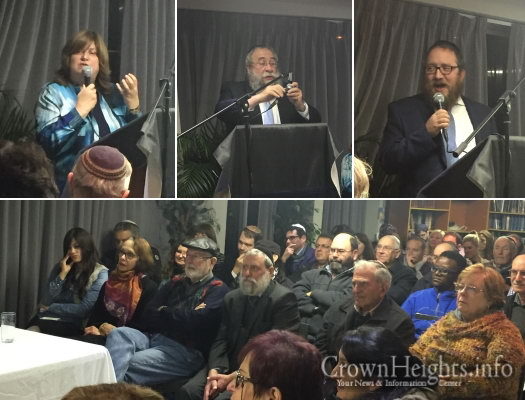 Just four weeks ago, thousands of Rivky Berman's family, friends, and long distance admirers were struck with the heart-breaking news that her holy soul had been called back to her special place in heaven. In her short 29 years she achieved so much and touched so many lives.
For her family the pain of her loss was beyond words. In addition, Rivky had been living with a genetic condition, Bloom's Syndrome, which had already prematurely taken the lives of three of her siblings, and the thought of parents burying a fourth child borders on the simply unimaginable.
At the conclusion of the Shiva the family launched www.RivkysTorah.com, a project to continue the inspiration that she gave to to the world, and that please G-d, through those close to her, will continue to give to the world for many happy and healthy years to come.
And so, before the days of Shloshim had even concluded, her parents Rabbi Yisrael and Vivi Deren already accepted a request, as fresh as the pain may still be, to share their message of positive thinking – "Tracht Gut Vet Zein Gut" with the world at large.
Visiting South Africa for a family Simcha, Rabbi and Mrs. Deren gave a joint lecture at an evening hosted by Chabad of the West Coast (directed by their children Rabbi Asher and Zeesy Deren) and the Nechama of Cape Town bereavement support group (directed by their friend and senior Shlucha of Cape Town Mrs. Avigayil Popack), titled "The Strength of a Smile."
The evening was opened by Rabbi Deren and began with reflections on my "My Friend Rivky" by Mrs. Chanee Shlomo, head of Jewish studies at the Sinai Academy Jewish International School.
Mrs. Deren then spoke sharing heartfelt experiences, and powerful life messages drawing on Torah teachings, beginning that "I'm not here to share a user's manual on how to get through hardships. I'd rather like to share on how to live a happy life." And this she did; with elegance, humor and insightful lessons gleaned from Torah, and her own personal journey.
Rabbi Yisrael Deren followed with a very open and heartfelt lecture on the power of a smile and how the smile of a Jew living with the beliefs in Torah can create new realities. He shared very deep and personal stories of watching these ideas in the real life experiences with his children and their journeys through the hardest moments in life.
Mrs. Avigayil Popack then thanked Rabbi and Mrs. Deren on behalf of the Nechama organization and on behalf of the entire community who were simply captivated by the real and uplifting message that Rivky's parents shared.
With the launch of www.RivkysTorah.com plans are in the making for more such platforms of lectures, articles and and personal interactions where her parents will continue to share the legacy that Rivky lived and shared with so many.