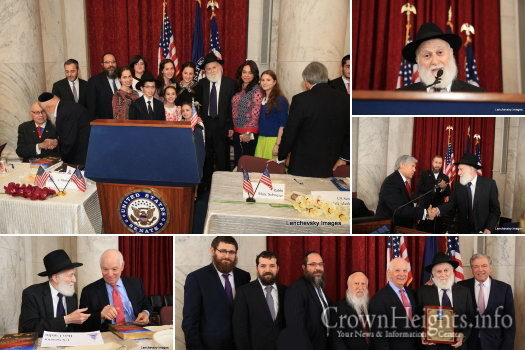 Soviet Jewish underground rabbi Hillel Zaltzman made history by being honored at the US Senate in Washington, D.C.  A special award was presented to him by Senator Ben Cardin (D-Maryland), who said that Rabbi Zaltzman is an inspiration to all.
Samarkand describes in vivid detail the fascinating story of self-sacrifice in the Jewish underground in the Soviet Union from the 1940s through the 70s. This gripping narrative is written in a captivating manner that transports the reader to times gone-by, painting a graphic picture of legendary heroes, perpetuating Torah study in the crosshairs of the KGB. It tells of the long and hard fought victory to preserve the Jewish way of life for future generations under the rule of communist terror. The price paid for their clandestine activities was steep: many a father disappeared without a trace, leaving their families destitute. It is the story of a small group of Jews who bravely fought the mighty, brutal Soviet regime at peril to their very lives, and came out victorious.
The author of this best seller, Rabbi Hillel Zaltzman was born in Kharkov, Ukraine in 1939. At the outbreak of World Word II his family escaped to middle Asia, to Samarkand, Uzbekistan. He was raised in a Jewish environment in the face of grave adversity, and at the young age of sixteen he became actively involved in the Jewish underground.
Several years ago he began writing his memoirs, which culminated in the publication of a 700 page book called Samarkand, The Underground's Far-Reaching Impact. Originally written and published in Hebrew, it captured the attention of thousands of readers and was met with great acclaim, becoming a best-seller. By popular demand the book was translated into both English and Russian, where again it was met with rave reviews. The books flew off the shelves, and soon there was not a copy to be had in the stores. So far 10,000 have been printed, and a new enhanced English version has just arrived in the stores.
Although the book is currently geared toward the wider Jewish community, it is currently being read and enjoyed by non-Jewish readers as well.
Among the reviews: "Samarkand should be read by every youngster. In my opinion, it's important to circulate the book among the young generation in particular." "Zaltzman's account offers a previously undiscovered tale which was not documented." "This riveting story is difficult to put down." "It's not a book of a past bygone; it's a book of the present and future". "Once I started reading 'Samarkand', I just couldn't stop. The author made me feel as if I was actually in Samarkand! "I emphasize once again: I consider this work a true piece of literature".
The book is highly recommended by Nathan Sharansky, Chairman of The Jewish Agency in Israel, Knesset Speaker Yuli Edelstein, and Chief Rabbi of Russia, Rabbi Berel Lazar, among others.