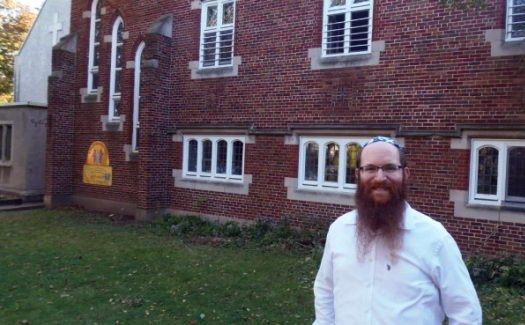 File photo: Rabbi Yisroel Bernath in front of Chabad-NDG.
Montreal Councillor Apologizes to Jewish Community, But Not Chabad
A Montreal city councillor who is vocally opposed to a building project that would see a Chabad Center replace a former church apologized to the Jewish community for inflammatory comments he made that many deemed to be anti-Semitic. However, he made a point of saying he was not apologizing to Chabad.
From the Canadian Jewish News:
Cote des Neiges-Notre Dame de Grâce councillor Jeremy Searle issued a qualified apology for his accusation that a Chabad rabbi and certain councillors who supported a proposed housing development for the site of a former church were using "Jewish guilt" to deter area residents who opposed the project.
At the May 2 borough meeting, Searle read a statement that made it clear he was not apologizing to those individuals, but rather to the Jewish community.
At the previous borough meeting on April 4, the independent councillor lashed out at those who, he said, accused opponents of the project of being motivated by anti-Semitism.