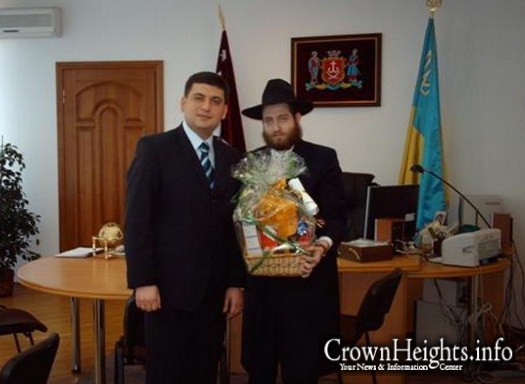 Volodymyr Groysman with Rabbi Shaul Horowitz
For the first time in its history, Ukraine has a Jewish Prime Minister. Volodymyr Groysman was elected this morning by the Rada, Ukraine's Parliament, after former Prime Minister Arseniy Yatsenyuk stepped down amid corruption allegations relating to a secret bank account in Panama.
Mr. Groysman was formerly the mayor of Vinnitza in central Ukraine, and a close friend of the Chabad Shliach and chief rabbi of that city, Rabbi Shaul Horowitz.
The Parliament voted to appoint Mr. Groysman by a margin of 257 to 50. An ally of Ukraine's President Petro Poroshenko, he will now be under pressure to continue Ukraine's EU-backed reform program, which was implemented after a popular uprising overthrew the Russian-backed government over two years ago.