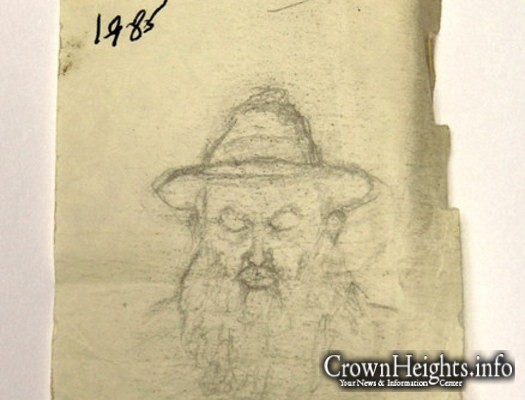 Story: A Note from a Farbrengen
Peretz Schmukler, an artist and longtime member of the Lubavitch community of Montreal, was approached Thursday night by an elderly Chosid, who handed him an envelope with a doodle on it that he had drawn as a child in 1985.
Relates Peretz on his personal art blog:
This Thursday evening, an elderly man came up to me in shul, opens his wallet and hands me a tiny old envelope.
"Nu open it" he commands me. so i take out this tiny paper with a tiny drawing on it. "I've kept this in my wallet ever since you gave it to me, when you where a kid. I told you then I would keep it and show it to you when you get older, now I want you to have this".
He handed me a sketch I drew of him late one night in 1985, while sitting in the Montreal Chabad Shul basement at 6405 Westbury Ave. as I was listening to the "Live Farbrengen Telephone Hook-up with The Rebbe"
That night this man sat at the table in front of me, he was listening carefully to every word the Rebbe spoke, concentrating with his eyes closed, I had a pencil I was supposed to use  to take notes of the Rebbe's talk, but when i saw this man I felt I had to draw that moment, so I did.
This amazing man held on to this drawing for all these years!
He kept it in his wallet and kept his word.
Thank you Mr. Rosler!
May you have much nachas from all your children, grand children and great great grand children for many more happy and healthy  good years to come, until  we all merit to greet Moshiach speedily in our days Mamish now!!
Peretz Schmukler