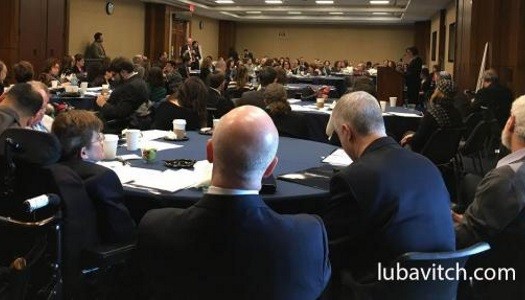 From Lubavitch.com:
Twenty cents an hour. That is all some employees in America get for their hard work, and only because of their disabilities. Big change is way past due, and advocates spent the day on Capitol Hill lobbying congressional and other leaders to make it happen.
Jewish organizations from across the Jewish community were well represented, working alongside people with disabilities and their families. Representing Ruderman-Chabad Inclusion Initiative at Jewish Disability Advocacy Day were Sarah Kranz-Ciment and Shelly Christensen.
Their advocacy is inspired by traditional Jewish values that see all human beings created in the image of G-d. "The opportunity to be on this platform with Jews from every walk of life, advocating on behalf of people with disabilities across America, I feel is very much a reflection of the Rebbe's vision which saw every individual deserving of human dignity and respect," said Sarah Kranz-Ciment.
Lorri Gumanow, 60, an adjunct faculty professor at Hunter College, is a caregiver for her 16 year-old son with disabilities, her husband, who has dementia and now requires full time care, and her 86 year-old mother who is legally blind. The Brooklyn resident was advocating for the bill that would provide funding for respite care and support for caregivers.
"The only way that I can manage getting through every day with all my responsibilities taking care of myself and my family is because we recently hired a care giver for a few hours a week, which gives me peace of mind. But it is an unplanned expense that we have to pay for. And it is over $1400 a month."
Two of the bills, if passed, will give much-needed support and aid to caregivers. The other will raise wages from an appalling 20 cents an hour to at least minimum wage for all employees with disabilities.
Breaking out into 13 groups, the 150 advocates reached out to 30 legislators and congressmen, including from New York, Rep. Carolyn Maloney, and Rep. Charlie Rangel.