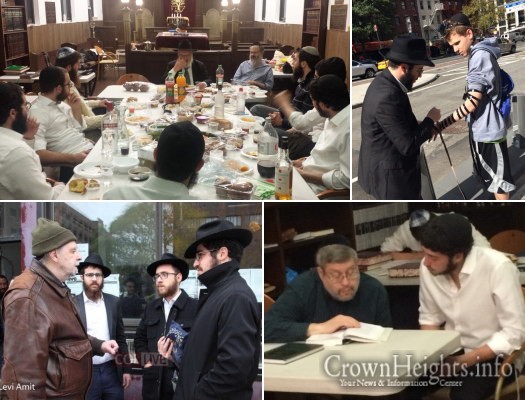 New Yeshiva Aims to Fill Shlichus-Shidduch Gap
Many Lubavitcher bochurim find themselves in a year-long gap between their return from 'Yeshiva Shlichus' until they begin dating, during which they are without a structured learning environment, undermining the many years they dedicated to learning and spiritual growth. A new Yeshiva in Manhattan aims to solve this problem once and for all.
Rabbi Shmuel Plotkin – veteran Shliach and Rov of Berditchev – pondered this problem for many years: "What happens to their personal learning advancement and Chassidic character development – away from the warm environment where they were nurtured for 15/16 years? After all, this is usually the last year before the Shidduch cycle sets in," he said.
Finally last year he came up with a solution: to create, in the New York metropolitan area, a full Yeshiva regimen combined with an active Shlichus program under an excellent Chassidishe Rosh Yeshiva and Mashpia- an opportunity to do a second year Shlichus in a quality setting.
This was the beginning of Yeshivas HaShluchim.
Following last Simchas Torah – for this new Zman – a thorough search for the right candidates produced eight qualified bochurim, and two modern two-bedroom apartments were rented – as dorm space – adjacent to Chabad of Gramercy Park on E. 20th St. in Manhattan. Rabbi Yosef Shmukler and Rabbi Dovber Dechter were hired to give the students Shiurim and supervision. The families of the Talmidim are not paying any tuition.
The Bochurim, with Rabbi Dechter, are part of the Shliach Rabbi Naftoli Rottenstreich's 7:45 daily Minyan, and use his Chabad House for their learning, which includes Chassidus, Gemara, and Shulchan Aruch throughout the day. Towards evening, they go to help the various Shluchim in Manhattan and Brooklyn – learning with the Baalei Batim and speaking in their Shuls. As word has spread about the valuable resource in their midst, members of the community of all ages have come in the evenings to talk, farbreng, and learn with these Bochurim at the Chabad House where they are stationed.
What was created was a true, intense learning oasis, where quality time is utilized for a strong, continued learning experience, coupled with practical applications for future Shlichus skills and, simultaneously, studying for Smicha.
This past Chof Daled Teves, Rabbi Y.Y. Yeruslavsky was brought down to the Yeshiva to test their progress in Yoreh Deah. He was visibly impressed by what he saw first-hand.