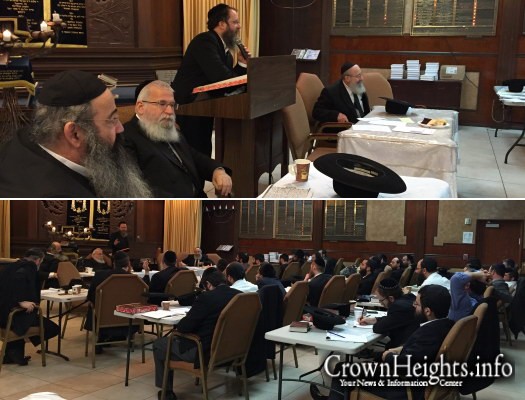 Florida Shluchim Receive Training on Laws of Marriage
On Rosh Chodesh Shvat, the day the Moshe Rabeinu explained the Torah in 70 languages, a course on Chupah and Kiddushin took place in the Yeshiva Gedolah of Greater Miami.
The course was arranged by Rabbi Benjy Korf, dean of the Lubavitch Mosdos in Florida, together with his assistant Rabbi Mendy Katz.
40 Shluchim from across the state of Florida attended.
The course was given by Harav Yehudah Leib Schapiro, Rosh Yeshiva of the Yeshiva Gedolah of Greater Miami and the Rov of Beis Menachem, Rabbi Yochanon Gurary, Rov of Chulon and member of the Beis Din of Lubavitch in Eretz Yisroel, Rabbi Pinchos Althouse, Director of the Division of Marriage in Chulon, and Rabbi Mordechai Farkash, member of Vaad Rabonei Chabad and Shliach of the Rebbe to Bellview, Washington.
The course took place over two days. At the conclusion, the Shluchim were tested by the Rabonim, and the successful applicants were awarded with a certificate signed by the Rabonim and recognized by the Rabanut Harashit in Eretz Yisroel.