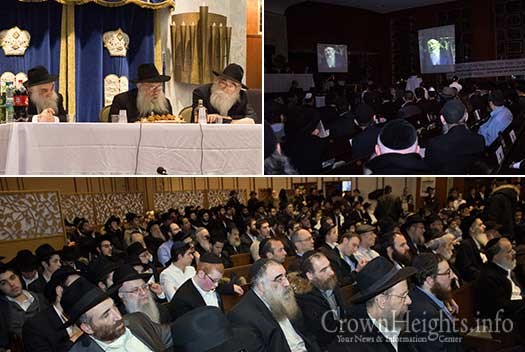 A large Hakhel gathering, marking five years since the passing of noted Kabbalist Rabbi Zev Volf Greenglass, OBM, took place at Congregation Shomrim Laboker in Montreal, and was addressed by Rabbi Leibel Groner, the Rebbe's longtime secretary and a friend of Rabbi Greenglass.
The event began with emcee Reb Dovid Cohen, son-in-law of Reb Volf, who welcomed the crowd. He was followed by Rabbi Yonah Rosner, rabbi of Congregation Shomrim Laboker, who spoke about Hakhel and how special Reb Volf was.
Anthony Housefather, a member of Parliament of Canada, delivered greetings from the government of Canada.
A choir of students performed several Niggunim, conducted by Rabbi Avraham Chaim Cohen, after which a video of Hakhel with the Rebbe and Reb Volf was showed.
The Greenglass family announced the beginning of the translation of his collection of Chassidic stories and sayings, which were already published in Hebrew under the title "Likutei Sippurei Hisvaadus."
The planned book in English will also include the translation of Reb Volf's other work, titled 'Likutei Dinim,' a guide to daily life, originally written Yiddish. The book was edited by the Rebbe.
"Many have expressed fond memories of farbrengens with Rabbi Greenglass," the family said. "Unfortunately, the Hebrew book is not accessible to the English-speaking public. We hope with your help, we will be able to complete the realization of this project and make this work available to everyone."
Donations and pre-ordering of the book can be done at rebvolf.com.