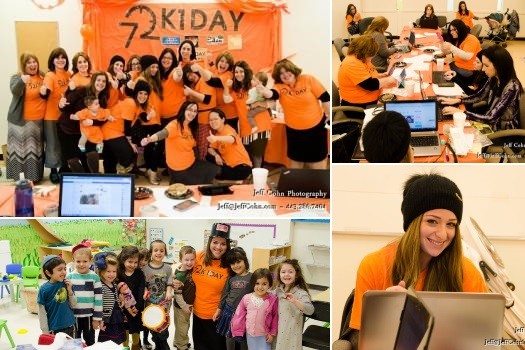 Parents Successfully Raise $158,000 for Baltimore Cheder
Just a month ago, Rikal Kaler, a mom of three girls who attend Cheder Chabad of Baltimore, launched a campaign to raise $72,000 in just one day for the school. She named it 72k1Day, and decided that the theme color had to stand out – bright orange.
She led a few meetings with a group of other moms who all shared one thing—they love Cheder Chabad. Started in a basement of another mom nine years ago, the inclusive school now boasts 188 students from infants to middle school. They each promised to reach out to friends and family, and eventually strangers, to ask for support.
A couple days ago, one volunteer suggested calling businesses to get corporate sponsors who would have their logos on the banner for pictures. Four local businesses – Tov Pizza, Dougie's, Eden Café, and DJ'sNE Diamonds (Noam Efron) — signed up as corporate sponsors because they recognize the value of a Jewish education at the Cheder.
Families have been sharing videos of themselves and their children promoting the school and cyberthon onto the 72k1Day group page on facebook and have spent countless hours making phone calls to friends and family.
As one of the grandmothers commented upon seeing a video of her grandchildren emptying charity cans and counting the money that they are donating to their own school, "How wonderful to see Jewish children being so caught up in funding their education."
And then game day came. It was a dreary rainy day, the orange decorations were getting soaked, but the mood inside the 72k1Day room was anything but gloomy. Within an hour, 35% of the goal was reached! Holding their babies and enjoying the breakfast provided by the school's parent-teacher group, the moms kept calling, texting, posting, and sharing images and videos on facebook.
At one point, one volunteer – who also happened to be a matcher – jumped up shrieking with joy after as she was able to secure a large donation. After some hugs all around, everyone got back to work, easily reaching the goal by the 2:30 dismissal.
At one point, one mom's phone stopped working. Panicked, she ran to the store and got it fixed so she could get back on the phones.
And then there was the bonus round. And another bonus round. Volunteers continued to work all night. And it paid off. Big. A time of publication, the school had raised more than $158,000!