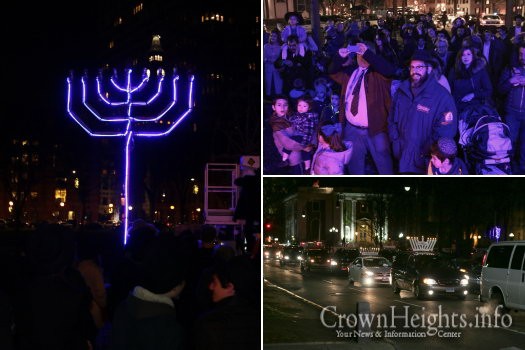 Sunday night, the first night of Chanukah, saw the largest crowd ever attend the annual Public Menorah Lighting in New Haven, located at the New Haven Green, in the heart of Yale University.
Organized by the Talmidei Hashluchim of Yeshivas Beis Dovid Shlomo, a massive 20-foot Menorah was erected, complimented with glowing light strips, enabling the entire Menorah to illuminate the night.
More than 200 people were present at the Public Lighting on Sunday night, which was attended by the New Haven Mayor, Mrs. Toni Harp. The Mayor shared words about Chanukah and its message for the world, after which Rabbi Gershon Borenstein, Maggid Shiur in the Yeshiva, lit the first lamp of the Menorah.
Major TV and News media outlets in New Haven covered the lighting, which was featured the following day on the front page of the New Haven Register.
Following the Menorah Lighting, Bochurim of the Yeshiva broke out with joyous dancing, which was followed by the annual Car Menorah parade, featuring a record of more than 40 vehicles. Police ensured the parade ran smoothly, as it drove through many populated streets of the Yale University and the greater New Haven area, bringing the message of Chanukah to all.
The Menorah Parade ended at the Yeshiva, where a Chanukah Carnival took place, organized by Bochurim of Shiur Aleph Mesivta. A grand Chanukah Play was coordinated by Bochurim in Shiur Gimmel Mesivta, and presented to the community after the carnival.