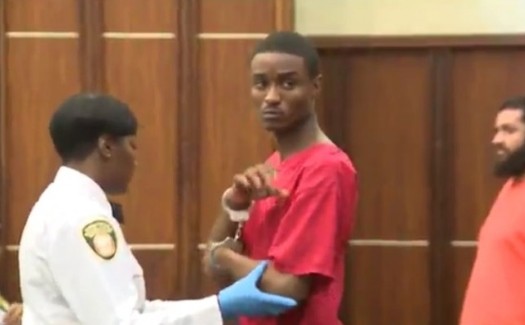 Deandre Charles. Photo: VIN News.
Teen Pleads Not Guilty for Murder of Rabbi Raksin
A 15 year-old Miami high school student entered a not guilty plea on Monday at this arraignment on charges that he shot and killed a visiting rabbi from Crown Heights during a botched daylight robbery attempt in August of 2014.
From VIN News by Glen Silver:
The Florida Sun-Sentinel reports that Deandre Charles entered the plea in Miami-Dade Circuit Court less than a week after a grand jury handed down an indictment charging him with first-degree murder.
Prosecutors contend that Charles shot and killed Rabbi Joseph Raskin—-who was in town visiting family at the time—-on August 9, 2014 as he was walking to Bais Menachem Chabad for Sabbath.
Rabbi Raskin died from a single .40 caliber bullet to the chest.
Raskin's murder sent shockwaves through the predominantly Orthodox Jewish community, which quickly posted a $50,000 reward for information leading to the arrest of his assailant.
Charles, a Northland High School student with little prior record to speak of, remains in custody and will be held until trial.
Miami-Dade prosecutors have yet to release full evidence against Charles, though at a press conference held last week it was revealed that DNA evidence and eyewitness testimony led to Charles' arrest.
Charles' attorney, Adam Goodman, said, "Everyone wants to know some facts about this case. Mr. Charles does. I do. Right now, Mr. Charles is sitting in jail not knowing any of the evidence against him."