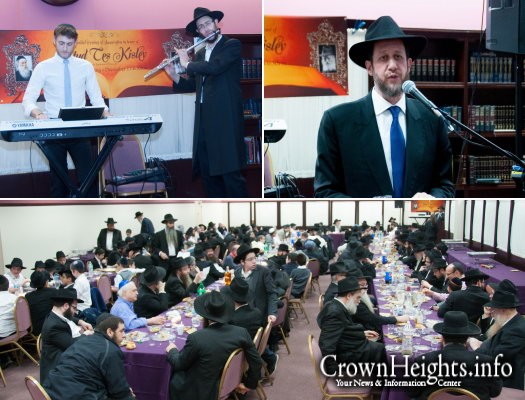 Over 300 people participated in Chicago's annual Yud Tes Kislev Farbrengen that was held on Tuesday Night  at The Bellows Center-FREE of Chicago.
Rabbonim, Shluchim Anash and members of the greater Chicago Community participated.
The event was chaired by Rabbi Levi Notik of the FREE organization which hosted the Farbrengen
The guest speaker, Rabbi Yitzchok Schochet, Rabbi of Mill Hill Synagogue in London England, addressed the crowed, and spoke of the many aspects of Yud Tes Kislev and the practical implications for Chasidim today.
Guest enjoyed a full catered meal by Mizrachi grill, Chasdidic  Flutist Yehuda Piamenta and Reb Yisroel Dovid Benjamin  on the keyboard inspired the participants with Chasidishe Music throughout the evening.
Greetings were given by Rabbi Shmuel Notik, Executive Director of FREE and Shliach to the Russian Jewish community in Illinois. As well as by Rabbi Baruch Hertz Rov of Congregation Bnei Ruven.

During the course of the evening a Chalukas Hashas for the coming year was arranged by Reb Yoel Atkins.
After the formal portion of the evening  concluded, many stayed on well into the night to Farbreng with Rabbi Schochet as well as Rabbi Meir Moscowitz , Head Shliach in Illinois.