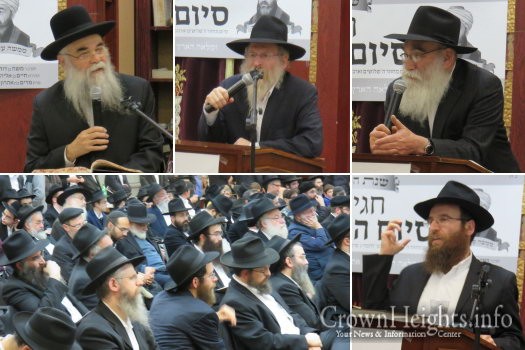 The Lubavitch community of Montreal united for a Siyum HaRambam and Hakhel gathering yesterday in the hall of Yeshivas Tomchei Temimim.
Participating as well were distinguished Montreal Rabbonim and community leaders.
Rabbi Shmuel Kramer opened the event with a Dvar Malchus, followd by Mara D'Asra Rabbi Dovid Banon, who delivered a Siyum.
Rosh Yeshiva Rabbi Aryeh Leib Kaplan began the 35th cycle of the Rambam, followed by Rabbi Yisroel Shimon Kalmenson, who delivered the keynote address.
Rabbi Yochanan Vozner, Rov of the Skver Kehillah of Montreal, spoke of the special relationship he had with the Rebbe, and how the Rebbe encouraged him to publish his Seforim.
An informal Farbrengen with Rabbi Kalmenson followed the event, which lasted until the late hours of the night.