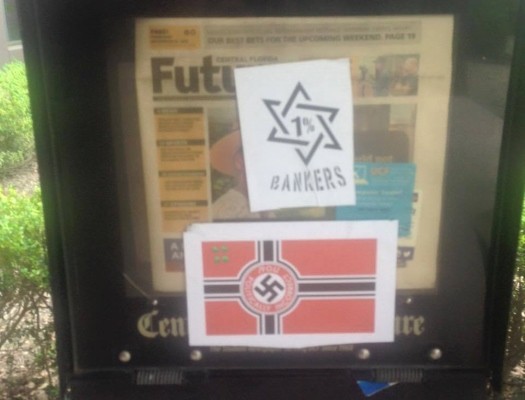 Two antisemitic stickers and a note calling for the boycott of all Israeli products were found at the University of Central Florida's main campus on Sunday, the university's Chabad rabbi revealed in a statement. 
One sticker displayed a swastika; another implied all bankers are Jewish. Near the Nazi imagery was a note that said buying Israeli products helps support the "murder and oppression" of Palestinians. Chabad Rabbi Chaim Lipskier said such "extreme rhetoric can help create a hateful and charged atmosphere that leads to hateful actions."
Rabbi Lipskier said the UCF administration assured him they are working hard to find the perpetrators behind the antisemitic postings on campus.
He also said he considers the placement of such symbols on campus as part of an attempt to make Jewish students feel threatened or unsafe, but made it clear that both those behind the crime and those who encourage it will "not weaken" Jewish students at the university.
"In fact," he said, "their hate-filled actions will only work to strengthen the resolve of the Jewish community that exists here at UCF, and to encourage us at Chabad to bolster our efforts to increase the education and pride amongst our students about our wonderful heritage."
Rabbi Lipskier said Sunday's incident followed a similar occurrence that took place in April at a student housing complex across from campus, where swastikas were carved into the walls of a Jewish student's apartment.