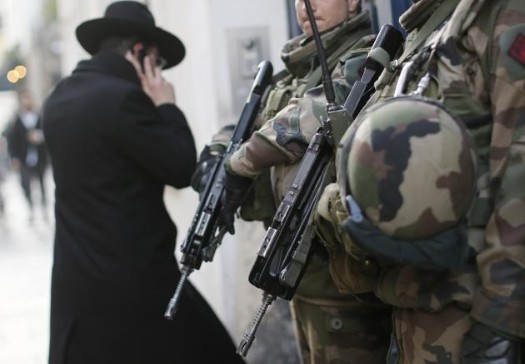 In the wake of the deadly ISIS terrorist attacks in Paris, The International Fellowship of Christians and Jews' President Rabbi Yechiel Eckstein today said his organization is expanding emergency security aid to French-Jewish communal institutions. The Fellowship at the same time said it will help any French Jew who wishes to immigrate to Israel.
"Amid the horrific terror attacks in Paris, it is critical that we help better protect French-Jewish communal institutions, which have been targets in the past," said Eckstein. "At the same time, we are extending our immediate support to any French Jew who wishes to leave France and make aliyah (immigrate) to Israel."
The Fellowship is providing immediate emergency aid of more than $86,000 to 25 synagogues and schools run by the Chabad Lubavitch movement across France, including in Paris and Toulouse, to beef up security by adding security guards and more sophisticated security systems. The Fellowship is also considering other steps to help improve security for the entire French-Jewish community.
The aid is the latest of more than $1 million in security support that the Fellowship began providing to Chabad institutions worldwide after the terror attacks in Mumbai against Chabad and others. The Fellowship has helped enhance security measures at 21 Chabad synagogues and other institutions including in Argentina, Brazil, China, Cypress, Croatia, Denmark, Germany, Nepal, Spain and Thailand, in addition to in India and France.
Rabbi Mendel Azimov, the director of Chabad of Paris, said: "The last few days, have been living hell for the citizens of France, and especially for the Jews of Paris. Naturally we feel like sitting ducks, very aware that our community centers, synagogues and educational institutions are in realistic danger at all times. Rabbi Eckstein was the first to approach us, seeking to immediately solve any security issues we may have.
"We do not have words sufficiently strong to express our gratitude. The International Fellowship of Christians and Jews and its donors are saving lives, protecting the principals of freedom and fighting the terrorists with both love and courage."