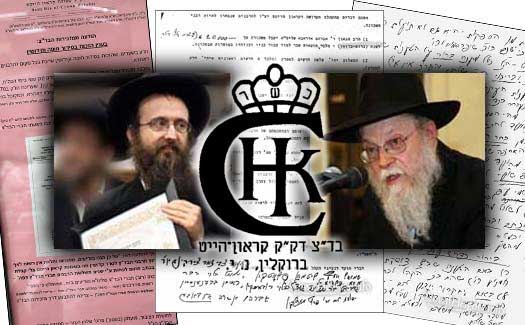 Vaad Hakashrus of Crown Heights has filed a lawsuit in Federal court claiming a number of food establishments, wine producers and rabbis are using its trademarked "CHK" logo without being certified.
The lawsuit, alleging trademark infringement, was brought by lawyers for Vaad Hakashrus Crown Heights, Inc. against R. Yosef Barun, along with Kingston Bakery, Inc., Chocolatte, Inc., Allied Wine Corp., Eber's Liquor & Wine Inc. and Responsible Liquor, Inc., all of whom are alleged by the plaintiff to be improperly using – or selling products that bear – an unauthorized CHK logo.
According to a complaint filed in U.S. District Court, R. Braun ignored multiple cease and desist letters demanding that he stop using the CHK logo as his own. These letters were also sent to the food establishments and winemaker in question, which were ignored as well.
In the lawsuit, the plaintiff alleges that "in order to assist Braun (and Schwei) in his attempt to use the unauthorized "CHK" certification and to coerce food establishments to use it, he (as well as Schwei) has caused third parties aligned in interest with him (and Schwei) to offer monies to food establishments and others on the condition that they use the unauthorized "CHK" certification of Braun (and Schwei) and do not use (or cease using) Plaintiffs registered "CHK" certification marks."
In the lawsuit Vaad Hakashrus is seeking monetary damages from the defendants, along with a preliminary and permanent injunction barring them from further use of the CHK logo.
Click Here to download the full complaint.
complaint-chi-opt