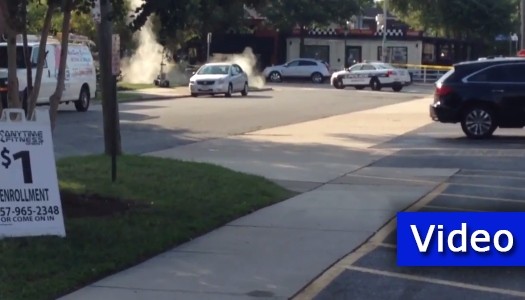 Police evacuated businesses and rerouted traffic Thursday afternoon when a suspicious package was discovered near the Chabad House in the Ghent neighborhood of Norfolk, Virginia.
A bomb squad was called in and they detonated the backpack, after which it was discovered to be full of "personal clothing," according to a Police Department tweet.
From the Norfolk Pilot:
Officers had asked people to avoid the area near Blair Middle School, police said via Twitter. They also rerouted traffic from Colley Avenue and 20th Street.
Ami Gershon, who is from Israel, said he found the backpack on the ground behind a bush at the northwest corner of Chabad House as he headed to a service.
Gershon, who has been living in the U.S. for 25 years, said he called police about the backpack because of the mindset he brought with him from his homeland where bomb scares are frequent, and don't always turn out to be false alarms.
"You have to be aware and careful," he said. "It's better safe than sorry."
The department's bomb squad robot was brought in to X-ray the package but couldn't determine what was inside, according to Norfolk police spokesman Daniel Hudson. The robot was then used to "disrupt" the package with a blast of water, which would separate wires and diffuse a potential bomb, Hudson said.
Bomb technicians then approached the backpack and found it full of clothing, according to the tweet. The scene was cleared around 5:15 p.m.
Water disruption complete. Scene still active. pic.twitter.com/DtR4HLx5JK

— Norfolk Police Dept (@NorfolkPD) September 17, 2015