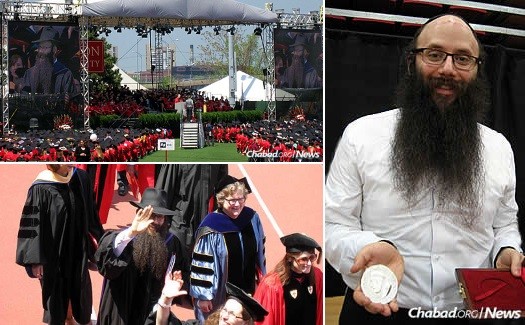 It is rare for a faculty member younger than 35 to win the prestigious Metcalf Award for Excellence in Teaching at Boston University, but Dr. Binyomin Abrams is far from an ordinary professor. In fact, he's one with lots of energy, known for a dynamic delivery of his subject matter.
A senior lecturer of chemistry in the College of Arts & Sciences, Abrams is also a Chabad Chassid who proudly sports a long, thick beard, as well as the distinguishable dress code of black hat and black coat, in the classroom and the lab. And the lessons he imparts go far beyond the periodic table of elements.
"Some students go to a university to get an education; some go to observe the world around them," he said. "Just walking around with my beard, jacket and hat has a tremendous impact. Some people think I'm Amish, at first, until they realize I'm teaching chemistry."
The 34-year-old Montreal native and father of three, who was granted the university's top teaching award on Sunday, has been a member of the Boston University faculty for eight years. He teaches a variety of chemistry courses and supervises a research group that develops original teaching approaches, such as online videos, workshops and tutorials, for students and instructors.
And he does so in a way that speaks to students. After all, he acknowledges in a short video the university made that features him in it, when it comes to chemistry: "It's hard; it's a hard class. It's always a hard class. Everywhere, it's a hard class. When I was in college, it was a hard class. Long after I'm retired from Boston University . . . it'll be a hard class.
"I think chemistry's just hard. I think that the fact that you can't actually see most of what we're trying to talk about, it can be hard.
"I make really, really corny jokes, a lot of them, as often as I can," he continues. "Chemistry can be hard and boring, or hard and fun. Either way, it's going to be hard; you might as well have some fun."
'Think Like an Expert'
One of his most popular and successful innovations is "The Boston University Chemical Writing Program," which adapts the basic concepts of the college writing program into a context relevant to the scientific study of chemistry. The research-based program has not only improved students' writing, but has changed the way they approach their chosen field of study.
"It teaches them to think like an expert, to do chemistry like an expert," explained Abrams, who acquired a Bachelor of Science in chemistry and a Master of Science in organic chemistry from Rensselaer Polytechnic Institute. He went on to earn his Ph.D. in theoretical physical chemistry from New York University, where he received the Margaret and Herman Sokol Fellowship in the Sciences.
It was in graduate school where he first became religious. He attended aPassover seder, sponsored by Chabad on Campus, with about 100 other people and something simply clicked. Rabbi Dov Yona Korn, co-director of Chabad House Bowery (serving NYU), had a profound influence on him, encouraging one small step at a time towards Jewish practice. Korn, too, found his way to Torah observance as an adult.
Abrams began to wrap tefillin, and went on to amalgamate religion and science.
"I love teaching chemistry," he says. "I think chemistry is really, really exciting. I think just the fact that we're trying to understand something that's both smaller and greater than us is just so vexing and so awesome."
While he serves as official advisor to about 25 chemistry majors, unofficially he offers guidance to a much larger number of students in various fields of study. His skills in this area were recognized when he won the Templeton Prize for Excellence in Student Advising in 2010.
Although Abrams says he does not specifically discuss his Judaism or religious beliefs in class, he takes time to answer questions or lend support to Jewish students who seek his advice after hours about a variety of subjects, including how to remain observant when classes fall, for example, during Jewish holidays.
"Many Jewish students, especially those who went to day schools, never had to do things like excuse themselves on holidays before," he said. "I help the students communicate with their professors, and reassure them that my colleagues are great and will be understanding."
He hopes that by openly displaying his Judaism, it demonstrates how it is possible to meld faith with a successful career without compromising one or the other.
"Dr. Abrams personifies what a Chassid should be," said Rabbi Shmuel Posner, director of the Chabad House of Greater Boston, located near the Boston University campus. "He is the right combination of someone who is proficient in his profession and upfront as a Chassid."
In addition to advising the student Orthodox minyan group, Abrams works informally with former students who are interested in learning more about Torah and Chassidus.
'Always Willing to Help'
"How he finds time, I don't know . . . he's always willing to help students in any way," said Posner. "When students ask him about Jewish involvement [on campus], he directs them to the Chabad House. He gives a talk every year on topics such as 'Torah and Science,' which brings in students who would never otherwise come here."
The Metcalf Awards were established in 1973 by a gift from the late alumnus and Boston University Trustee, Dr. Arthur G. B. Metcalf. The winners are nominated by members of the university community, and chosen by a committee of faculty members and students. Abrams is the sixth chemistry faculty recipient since the award was first given out in 1974.
The award citation, which was read at the presentation, stated: "Dr. Abrams has shown that with intellectual rigor and unbridled energy and imagination, even the weightiest scientific concepts can be made understandable and entertaining." It also cited his "humor-laced lectures and an open-door policy for those striving to grasp new material."
"It was very exciting—a nice acknowledgement of my hard work—and it was very flattering to receive it so early in my career," said Abrams, who added that it will probably take him a while to fully process the experience.
​"For now, it is a reminder that everything that we do has an impact far greater than we can comprehend," he said. "I feel very grateful that the Almighty has given me such opportunities to impact so many students in a positive way, and I am more mindful than ever about how much more needs to be done."