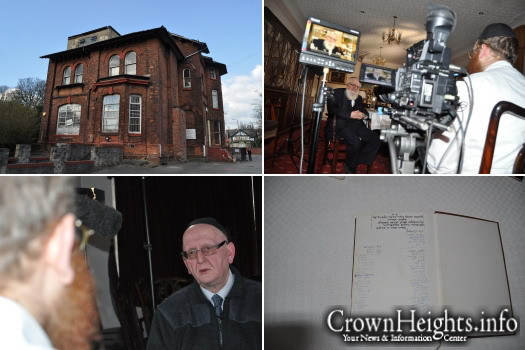 A team from JEM's My Encounter with the Rebbe project just returned from a 5-day trip to Manchester, England, where they interviewed 17 individuals.
While it might not be a hot vacation destination, Manchester was high on the My Encounter project's list of places to visit. Manchester is an older Lubavitch community dating back to the late 1800s, when Lubavitcher chasidim first opened up its shul.
Rabbi Bentzion Shemtov, the Rebbe's shliach to England, would often travel from London to Manchester to reach out to the Jews there. With the help of Reb Zalman Jaffe, in 1961, he chartered a plane full of passengers to New York to visit the Rebbe. Since then, many Mancunian Jews came to seek the Rebbe's advice.
The My Encounter team has been planning a trip to the city for over eight years – and it was well worth the wait! JEM's lead interviewer, Rabbi Mendy Mochkin, and cameraman Yankee Teitelbaum worked literally around the clock to squeeze in as many people as possible. "We started our day at 7 am and didn't finish filming until midnight!" recalled Rabbi Mochkin. "Going into the trip, we planned for 8 interviews, but once we arrived, we realized there were so many more stories that we needed to record. When we left, we were shocked ourselves that we interviewed 17 people."
Among the individuals who were interviewed was Dr. Efraim Jaffe, Reb Zalman's brother, who began corresponding with the Rebbe as early as 1953, and Mr. Michael Tabor, an internationally acclaimed musician who spoke to the Rebbe in depth about music, the arts, and the danger and benefits of synthesizing the two with Torah.
A big thanks to Max and Leah Cohen and Harold and Judy Kahan for hosting the My Encounter team.
JEM's editorial teams are now reviewing the interviews, hoping to include beautiful stories from the over 32 hours of interviews. Look out for them in upcoming Living Torah and Here's My Story publications!