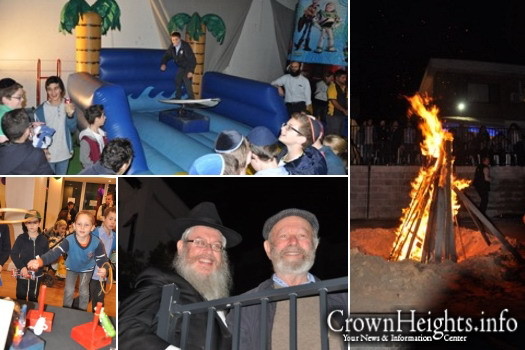 Sydney's Cong. Tzemach Tzedek Celebrates Lag Ba'omer
Over 700 people attended Sydney's largest Lag Ba'omer Bonfire at the Tzemach Tzedek Community Centre Wednesday night.
The event was held in memory of Brocha Bas Moshe Stark in honor of her Yahrtzeit.
A children's rally kicked off the evening. Rabbi Straiton ran the program, which included a story, 12 Pesukim and a raffle. Tehillim was recited for a Refuah Shelaima for Menucha Rochel bas Gila Elka.
Arts and Crafts activities were prepared by Rivky Lazarus. Indoor games, a Jumping Castle and Mechanical Surfboard kept everyone entertained. Live music was played by the KTC Boys High School Band.
Recent renovations and extensions allowed for a lot more activities than in the past.
A special thank you goes to Sreuvi Lazarus and Benny Amzalak for coordinating the event, Rami Harel for an amazing bonfire, the team of KTC boys that helped throughout the night, everyone else who assisted with the event and to the Sydney community for joining in the festivities.