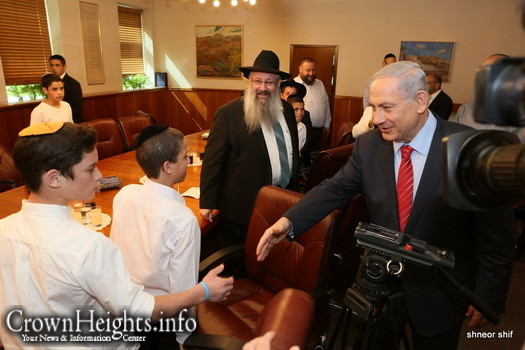 Today the Prime Minister of Israel, Benjamin Netanyahu, welcomed to his office a delegation of youngsters who will celebrate their Bar Mitzvahs with the help of Kolel Chabad.
During the meeting, the Prime Minister spoke of his many encounters with the Lubavitcher Rebbe, and blessed them with "Mazal Tov" on the occasion of their upcoming Bar Mitzvah celebration.
Accompanying the boys was Rabbi Sholom Duchman, director of Kolel Chabad,  as well as Rabbi Yitzchok Mishan and Rabbi Mendy Blau. The meeting was arranged by Rabbi Zalman Wolff of Kfar Chabad, a close friend of the Prime Minister.
Photos by Shneor Shif