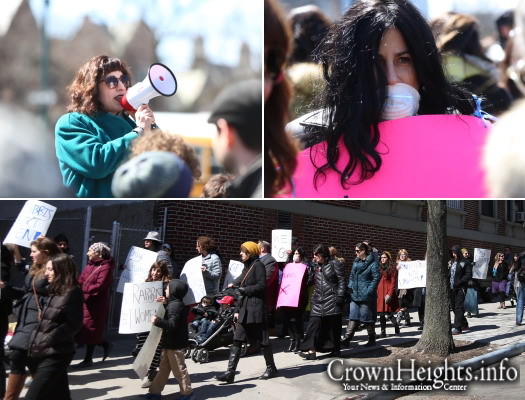 Protesters March Against 'Gett' Refusal
Several dozen protesters marched down the Crown Heights Jewish community's main thoroughfare this afternoon chanting slogans and holding signs in protest of men who refuse to unconditionally give their wives a 'Gett' (divorce document without which a woman cannot remarry according to Jewish law).
The march began at around 1:00pm on the corner of Eastern Parkway, and made its way down Kingston Ave. until Empire Blvd. It then veered right until they reached the front of The Besht synagogue, where the marchers heard from several speakers and chanted slogans.
Some of the protesters carried signs with messages such as: "Abusive Men Abuse The Gett!" "Only Change Will Unchain!" "Real Rabbis Respect Women!" "It's not a fight! It's a woman's right!" "Gett Justic Now" "Gett abuse = wife abuse" "Say Yes To The Prenup" "Gett a life!" and "Let My Sister Go!"
The protest was organized by activist Itta Werdiger Roth, who is quoted as saying "There is only ever one side to the story of Gett Refusal."
The march, from its inception, was the source of much controversy, with supporters invoking the need for awareness regarding the very real problem of 'Agunos' (Jewish women left in marital 'limbo' since their husbands refuse to give them a Gett), and detractors pointing out that the target of this particular protest was not a 'Gett-refuser' at all, and that he is rather the victim of a smear campaign by his late wife's family – who are seeking custody of his recently-orphaned children.
Photos by Benams