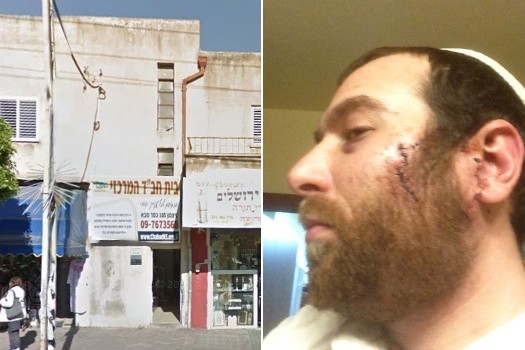 Eldar Hughes (right) was attacked in front of the Chabad House in Kfar Saba (left).
Eldar Hughes, a 31-year-old man from Kfar Saba, was attacked tonight, Motzei Shabbos by Arab assailants near a Chabad House in the Israeli town.
From Ynet News:
"I managed to hear (the perpetrator's) friend yelling at him in Arabic 'no, no', but he didn't listen to him," Hughes said, saying that the man then "shouted 'Allahu Akbar', struck me in the face with a bottle, got in the car and fled the scene."
Police said the attack was not nationalistic in nature and are searching for the suspects.
Hughes required stitches in his face and in contrast to the police, has no doubt that the attack had a nationalistic background. "We were eating a Shabbat dinner, and when we finished, at around 11 at night, I left the house and headed home. I'm a religious man who wears a kippah and prayer tassels. When I arrived at the crosswalk on Weizmann street, I started to cross the road during a green light.