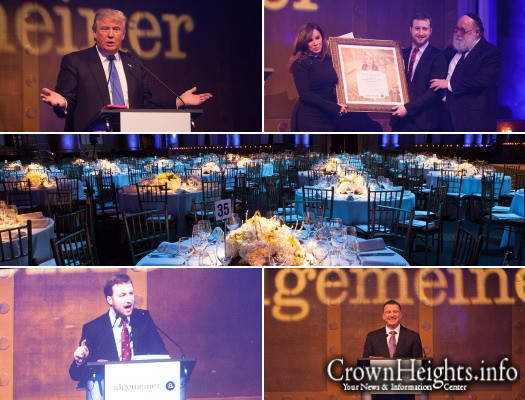 A crowd of 500 gathered Tuesday evening at the Capitale on Bowery, including philanthropists Joseph and Deborah Aronow, tycoon Donald Trump and speaker of the Knesset Yuli Edelstein, for The Algemeiner's second annual 'Jewish 100′ Gala.
This year, The Algemeiner paid tribute to the memory of iconic entertainer Joan Rivers. Melissa Rivers, Joan's daughter, accepted the posthumous award on her mother's behalf.
Both Edelstein and Rivers received the paper's Warrior for Truth Award, last received by Nobel laureate Elie Wiesel, and Trump received the Liberty Award for his contributions to US-Israel relations. The evening also saw the unveiling for the first time of the second annual 'Jewish 100′ list of "the top 100 people positively influencing Jewish life."
The evening was hosted by Fox News' Heather Nauert, and attendees included artist Ron Agam, actor Ron Rifkin and Israel's ambassador to the United Nations Ron Prosor. The event's Honorary Chairman was Elie Wiesel, and it was chaired by philanthropists Bob and Amy Book, and Neil and Sharon Book.
Welcoming the gathered crowd, Algemeiner Publisher Simon Jacobson recounted how the paper has evolved over the years, and paid tribute to its 43-year history.
Editor-in-Chief Dovid Efune highlighted the paper's mission to serve as the voice of the Jewish people.
"Friends, by your attendance here tonight, by your strengthening of our voice, each of you has made a statement, each of us has made a statement. We will not be silent," Efune said. "We will speak up on behalf of those that cannot do so, and we will raise our voices on behalf of those that are not heard."
A tribute video for Joan Rivers was shown, highlighting her Jewish identity and support for Israel. The footage featured appearances from designer Elie Tahari, Martha Stewart, Scott Currie, Simon Doonan and Sandy Gallin.
Upon receiving her mother's award, Melissa highlighted her Jewish and pro-Israel identity, saying, "My mother, clearly, was always very passionate about Israel and Judaism and… it really was not in her nature to keep those feelings, or any feelings, to herself."
"After my mother passed away it became overwhelmingly apparent to me that her pride in being Jewish was very well known around the world… a ridiculous amount of trees were planted in Israel in her honor," she said.
In a moving address, Or Carmeli, the sister of IDF Sergeant Sean Carmeli, an American who was killed fighting in Gaza during Operation Protective Edge, thanked The Algemeiner for profiling her brother shortly after his death.
Trump was presented his award by his daughter Ivanka Trump, who converted to Judaism in 2009. He exclaimed, "I have a Jewish daughter! This wasn't in the plan, but I'm very glad it happened."
He concluded his remarks with strong comments in support of Israel saying, "We love Israel, we will fight for Israel 100 percent, 1000 percent, it will be there forever."
Former Prisoner of Zion and now Knesset Speaker Edelstein, who delivered the keynote address, bemoaned the widespread acceptance of the legitimacy of relative truths. Applying the concept to the international community's equivocation over Iranian nuclear ambitions, Edelstein said, "We better act now, because the truth is, that Iran is getting dangerously close to nuclear weapons."