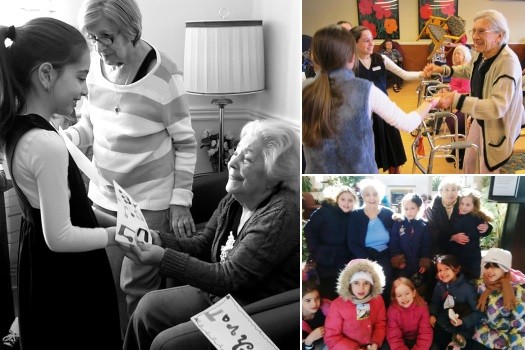 Yud Shvat at Beth Rivkah of Montreal is always marked in a way that brings nachas to the Rebbe and inspires the students; this year was no different.
The students of Grades 1 through 6 visited 10 nursing homes and hospitals throughout the island of Montreal.
Four buses transported the children with their morahs, and they were enthusiastically welcomed by the residents, patients and grateful staff. Cards were prepared for each senior or patient visited, and suitable programs and games were presented, geared for each individual place. The students returned greatly inspired and happy that they cheered up so many people, while fulfilling the Rebbe's wishes that we all increase in acts of goodness and kindness.
Grades 7 and 8 prepared an exciting original "Mivtzoim Carnival" for hundreds of pre-school and elementary-school children.
Each student in the entire school (pre-school, elementary and high school) wrote an individual pan to the Rebbe.
The High School students had a special program on Yud Shvat with Rabbi and Mrs. Hecht, shluchim in Massachusetts, who came in specifically for the Yud Shvat High School programs in Beth Rivkah.
Grades 9, 10 and 11 ate the Friday night meal in Beth Rivkah with a content-filled program. Mrs. Nechama Dina Hecht led the Farbrengen and animated discussions. The girls didn't want to leave the amazing program, notwithstanding the late hour.
Special thanks to Mrs. Minkowitz, Rivkah Shanowitz, Achos Hatmimim heads Devorah Bresinger and Feigie Hus, and G.O. heads Shayna Altein and Nechama Teitlebaum, for organizing the programs.
The Elementary students will be having an exciting Shabbaton this Shabbos, in honor of Chof-Beis Shvat, the yahrtzeit of Rebbetzin Chaya Mushka. The students will be eating a Shabbos meal in the school, with spirited singing and dancing. Each grade will make an original presentation. The Shabbaton culminates with a toichendike, fun-filled Melaveh Malka program. Thanks to the dedicated Morahs and creative grade 10 students for helping with the Shabbaton.