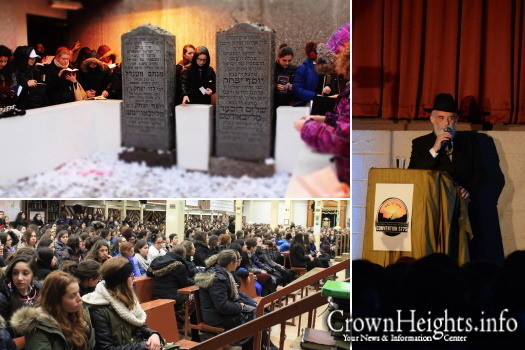 This weekend, over eight hundred girls experienced a Shabbos that will continue to impact their lives, long after the seventy two hour event ended: the annual Lubavitch Girls High School Shabbaton, hosted by Bais Rivkah in Crown Heights.
One girl who participated in the event described the experience:
This weekend, lives were changed. This weekend, thirsts were quenched. It was a Shabbos that provided the answers to so many questions, and most importantly strengthened our understanding of who we are. All the topics we spend years learning about in the classroom, Ahavas and Yiras Hashem, Ahavas Yisroel, Hiskashrus,became not merely subjects, but real to us.
Friday night farbrengens with Rabbi Friedman, Rabbi Hanoka, Rabbi Berkowitz, Mrs Yehudis Bluming, supplied answers to some of the many confusing questions of teens, and brought out a new love and thirst for Torah. Just picture this scene at the Friday night Seuda, hundreds of girls, encircling the Rosa Ballroom in Campus Chomesh hands around their friends shoulders, raising their voices in unity and singing Tzom Lcho Nafshi.. The Tzoma became a reality.
Shabbos Mevorchim Tehillim, davening in 770, and then Farbrengens at which we learned Bchavrusa, heard inspiring words and participated in Seder Hanigunim, helped to quench the thirst.
The "Motzei Shabbos blues" that sometimes afflicts us after really spectacular Shabbosim was non-existent this week. Kicking off with a concert, the students from all over the United States gathered together to hear Bracha Jaffe sing the best Jewish hits, with words of toichen and inspiration in between songs. Equipped with glowsticks and never ending energy, the girls danced and sang for hours. Afterwards, there was a delicious Melavah Malkah in Beis Rivkah Lefferts and music played by Nechama Dina Rosenbeg, from BRHS. Rabbi Rivkin spoke about his experience with C-Teen in connection to the idea that every neshama thirsts for Hashem. A film made by the Eleventh Grade of Beis Rivkah High School, directed by Shluchos to BRHS Yocheved Krasnanski and Leah Shemtov, focused on our daily quest for happiness and ultimately, answered the question as to what really leads to  true simcha . Beth Rivkah eleventh grader,  Sarah Eckstien read a poem about Tzamah Lecha Nafshi, which was met with thunderous applause.
The night could have ended there and all would have been well. But the Beis Rivkah Convention took it a step further, taking all the girls to 770 to gather downstairs, in the very Daled  Amos where the Rebbe sat and Farbrenged . We heard moving descriptions from Mrs Miriam Swerdlow and Rabbi Yossi Paltiel about the power and impact of Yechidus, and today, the meaningfulness of a moment in the  Rebbes holy sanctuary. The concept of Bais Rabeinu Shebeboval took on a new meaning. As I gazed upon the faces of the hundred of girls as they patiently waited in line, for that  one minute of being in the Rebbes room I actually had tears in my eyes. I felt the holiness so acutely, and though I knew we were missing so much I also realized how much we have and how much we can accomplish,even today, because the Rebbe gave us the Kochos. Then group by group, every girl had a chance to be in the Rebbe's room, for most, something they'd never done before.
Sunday was the last day of the incredible Convention of the year 5775, and not a minute was wasted. After davening all together, the girls got to learn fascinating JLI courses with professional JLI presenters Rabbi Mintz, Rabbi Silverberg, Rabbi Michoel Shapiro, Mrs. Chava Shapiro, Mrs. Molly Resnik, Rabbi Reiter, Rabbi Yossi Friedman, Rabbi Chaim Hanoka, Rabbi Yossi Mendelson, and Rabbi Osher Kravitsky. Each class focused on a different topic, making us think and clarifying concepts in a relevant and meaningful way.Then we all gathered in the lunchroom and to the background of Niggunim playing each girl ,searched within her heart and wrote her private Pan to the Rebbe which we brought to the Ohel, immediately afterwards. As we stood by the Ohel, some of us for the first time, the drenching rain was forgotten, all I felt was that I was having a private conversation with my Rebbe.
To conclude this empowering weekend we joined together for a banquet at the Rosa ballroom. The moment we entered we realized this would be a special evening. The decor of the room portrayed the concept of Tzoma Lcho. The tables were set beautifully and as we enjoyed our gourmet meal, prepared by Smadar Benayun and served by the BRHS volunteer waitresses, we heard the wonderful music played by BRHS ninth grade student, Nechama Dina Rosenberg. With Mrs. Hindy Gurewitz at the podium the evening began.As she introduced each speaker, she shared words of inspiration and fascinating stories . Our keynote speaker , Rabbi New, specifically was asked to come from Montreal to address us.
He enlightened us with a medrash exemplifying the struggle and turmoil that each Jew endures. The feeling of longing and yearning to fill the void and connect to our essence- the eternal force within us that thirsts for G-dliness.We sat their spellbound as he expounded on this theme.
What a zchus it was for us that Rabbi M Kotlarsky, took time from his very busy schedule, and came to address us (frankly, that really impressed me because I knew that he always spoke to the Kinusim of the Shluchim and Shluchos and now us.) Rabbi Kotlarsky addressed us, as the future shluchos, he empowered us. His words were a call to action.
We took a few moments, and in silence we each and every one of us, contemplated upon what we would do, as a personal Hachlata which we wrote down on individual papers , and all together, would be brought to the Ohel.The Roll Call, of all the students, coming from different parts of the world, and attending the schools present, was exhilarating . It highlighted the rebbe's impact on the world with all the chassidim, extensions of the rebbe, dispersed all over the world. We broke into spontaneous dancing. As Y. Benshimon played Luvavitcher Niggunim we rejoiced with our fellow sisters. No one wanted to leave, as we bid farewell until we meet once again.
At the end of convention, one girl summed up what she had learnt over the weekend, saying," I realized that until now, I was trying to quench the thirst of my neshama with the equivalent of diet coke. With clothing, with parties- but it was only making me more thirsty. What I've gained is the simple knowledge that Tzama LECHA Nafshi, my soul is thirsting for Hashem. Now I go back to my real life eager to drink refreshing pure water of Torah and Chassidus. I know that, after these seventy two hours, together we will Bring Moshiach."
An event like this is a result of the combined efforts of many individuals and groups. I would like to thank the administration and teachers of BRHS, and to the students who with dedication, gave so many hours to make it all happen. To all the speakers and to JLI ( for their materials ) Specifically to Rabbi B. Stock, Morah Teichtel, Mrs Sara Blau, Shluchos and convention coordinators Mirriam Ellberg and Rochel Danzinger.