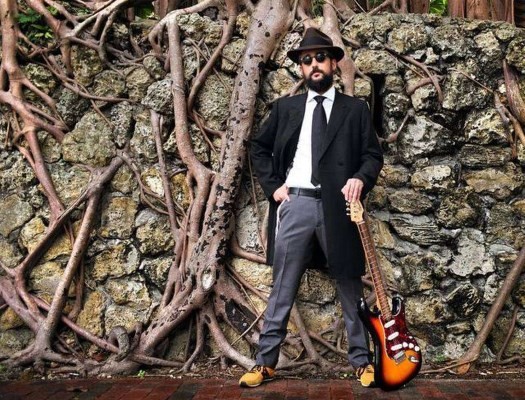 Rabbi Getzy Fellig likes to find what experience a person does not realize they need, and then deliver that experience to that person.
The latest project of the rabbi of Chabad of Coconut Grove, who has previously worked in real estate and technology start-ups, is the second annual Avenue J Music Festival, an outdoor concert at Coconut Grove taking place on Sunday. Rock/indie Jewish bands Moshav and Distant Cousins are headlining the event, which is expected to draw 3,000 attendees.
"In conjunction with being brought up in a Chabad home growing up, it [my background] makes for a unique combination," said Fellig, who last May in only one week organized a parade in Marlins Park for Jewish holiday Lag Ba'omer — an event attended by 9,000 people. "Everything I look to do, I look to do it with a little bit of a twist."
And he is trying to do exactly that with the festival at the Barnacle State Historic Park.
"When someone hears about the festival, it's something that would appeal to them, with incredible music that they might not have access to," said Fellig. "We want people to come meet us, see what we're about in a non-threatening, fun environment, and hopefully find something to take home with them. We're not about observant, orthodox affiliation, that doesn't matter — we're about servicing the community."
Before the Miami native settled down in Coconut Grove two and a half years ago with his four children, he was involved in start-ups and commodities trading. At age 16 Fellig left Yeshiva to be a commodities trader and afterward worked in real estate and founded technology companies in Brooklyn and San Francisco. One of the things he created during that time was eCharityBox, a Jewish-themed mobile application that facilitates donating charity online.
"I had the idea of bringing traditional Jewish experience to the digital world," said Fellig. "When someone goes into a synagogue there's a charity basket. Even in the digital age, religious experiences should be made available."
When his father reached out to him about re-joining the Coconut Grove community, the decision to return "felt right at the time."
Fellig wants the festival to highlight both music and his hometown, and says the bands that will perform have a diverse, unique style that fits with Coconut Grove, a location with "hammocks and peacocks running around that make it different from every other park of Miami."
He explained that while the South Florida Jewish music scene is usually Chasidic or klesmer style, referring to traditional Jewish music, the festival's music will be different.
"I wanted to create something broader based with mainstream sound, with bands and performers with a unique twist to their music, not the regularklesmers, that would be able to provide something that would engage the community," he said. "They [the bands] are pretty popular, definitely the best of the best."
In addition to the headliners, the festival will include music from the internationally renowned Israeli-American rock band Moshav, Los Angeles-based alternative rock bands Distant Cousins and Purdue Avenue, and Israeli blues artist Lazer Lloyd.
Dov Rosenblatt, the 33-year-old singer for the Distant Cousins trio, said he is excited for the event.
"It was such a fun event last year for the debut of the festival, so it's always fun when you play something fun and return and you know the lay of the land," said Rosenblatt. Among other songs, the band will perform Are You Ready (On Your Own), a song featured in the summer blockbuster This Is Where I Leave You.
"This year we have a great lineup," he said, describing Purdue Avenue as having "catchy songs and high energy" and Lazer Lloyd as "an incredible blues guitarist."
The festival begins at 5:30 p.m. at the Barnacle Historic State Park in Coconut Grove. Kosher foods and wines will be available for purchase from Hasid + Hipster, a kosher pop-up from Brooklyn.
"As with last year, it's for the Jewish community and the general community to know that we're [Chabad] here to offer whatever we can to whoever we can," Fellig said.
He later joked, "The plan if it rains is we'll pray very hard."